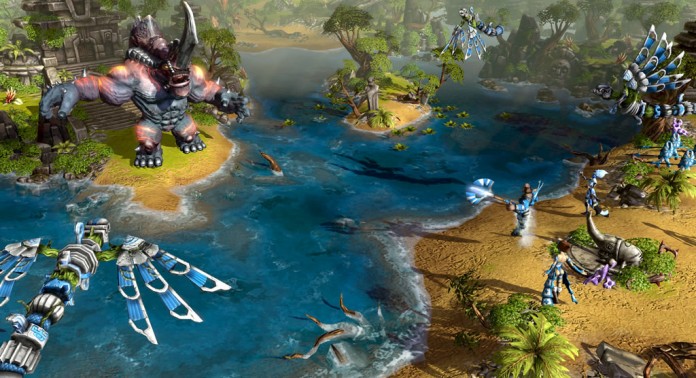 Experience real-time strategy in a whole new dimension! Every battle is different, every army unique. Create your own fighting force from mighty creatures and powerful soldiers. Lead your army in epic online battles – together with your friends or against them! Fight alone in single-player missions or in a team with up to twelve participants. In addition to 1on1 duels, various tournament modes and a fiercely contested ranking list await you in PvP.
Post Date: 22:07 26-07-2014
Rating: 7
Author: Glorious
Comment: its a fun game overall and nice to look at as well. its basically magic: the gathering RTS, you trade with other players or buy your own cards which allow you to summon units and structures. single player campaign is nice but gets boring over time. randomized 1-4 player maps also get boring fast as they are always mostly the same. i guess its up to PvP section of the game to keep players entertained. i never played PvP so i wouldnt know really…
Post Date: 00:18 20-02-2013
Rating: 10
Author: Mordekaiser
Comment: This game graphic is great i mean super great the edges of everything is no nice and the gameplay is so smooth and easy if you are a MOBA games player or a strategy nerd then this game is for you 10/10
Post Date: 19:07 04-09-2012
Rating: 8
Author: PolanWalker
Comment: Master graphics. The sharpnes of detailes is great 😀 8/10
Post Date: 06:34 09-12-2011
Rating: 8
Author: Thedarkboy
Comment: Pretty nice RTS. This isn't as fun as it was in the beginning though. But it's still very funny. 8/10 from me
Post Date: 17:57 17-09-2010
Rating: 10
Author: Zero88
Comment: Great RTS that's still going strong. New patch makes F2P even friendlier with free points to buy cards! I suggest anyone that enjoys RTS to give this F2P a try!
Post Date: 14:52 23-11-2009
Rating: 7
Author: bushwhacker2k
Comment: Pretty fun game, the RTS Card Game system is pretty innovative and I hope to see more of it in the future, but…

The game has a lot of problems that make it below what it could be. My biggest issue is that you can't get cards other than your starting cards without paying money, which pretty much screams "cheap money-making scheme".

My other complaint is that even though they have multiplayer PvE maps, which is AWESOME, is that they put just about no effort into them. There is little to no teamwork involved and it just doesn't work out as well as it should.
Post Date: 16:44 03-06-2009
Rating: 9
Author: awesomedrako
Comment: Battleforge has now gone Play4Free, meaning that you can experience the entire game for free, though you still have to buy new cards with real money I think, also, Battleforge is a very good RTS, a very unique system, fun gameplay, with very good graphics, even with everything on low (I have to do that since my computer sux)
Post Date: 23:45 01-04-2009
Rating: 8
Author: Review Meister
Comment: Not bad. The action is never dull and the graphics are gorgeous! My only complaint is that my PC seems to heat up everytime I play it.
Post Date: 20:48 29-03-2009
Rating: 9
Author: webber
Comment: Awesome online RTS that just came out! You like this game if you have fun making fantasy armies. The card thing was a little wierd at first because i am not into the whole card thing, but still a great game!