ROSE Online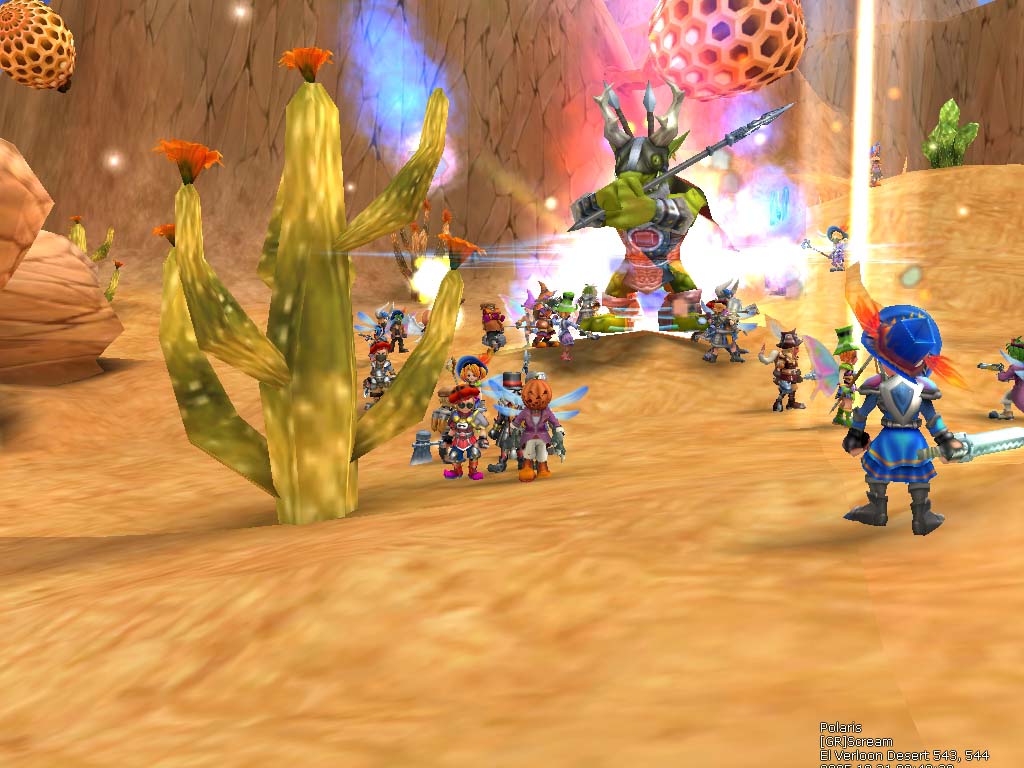 Game Description and Comments
R.O.S.E (Rush on Seven Episodes) Online is a MMORPG with cartoony graphics that features seven different planets. Each planet has it own set of particular environments, rules, laws and characteristics. Players can actively affect the outcome of each planet, and are able to climb the local power ladder to use as a basis of invading other planets through force or subterfuge.
Players can form groups and compete for domination over the seven planets, unlike a small scale war, such as a guild war in which players fight for the possession of castles, players can take part in a huge war in which the fate of an entire planet is at stake. Once you become the king of a planet, you will have political and economic authority as ruler of that planet's government. The one who can put all 7 planets under his control will become the most powerful force in the universe.
Four Different Classes
Dealer Class:
Dealers are able to craft items and sell those goods to make a profit, they are continuously traveling around the planets trading and selling items throughout the busy and bustling towns. With the ability to craft items like car parts, wings and castle gear a Dealers job can be very rewarding but hard work. The important Dealer policy that a Dealer must always remember is 'buy anything cheap and sell it at a high price!
Hawker Class
Hawkers are known as brave explorer's who venture out into the unknown, they are born adventurer's who love exploring dangerous and legendary places that others may fear. They have various abilities and skills that are ideal for venturing out into dangerous areas, Hawkers are also able to advance to Scouts, which specialize in leading expeditions, or Raiders who focus on assassination.
Muse Class
Muses concentrate on training themselves to communicate and harmonize with the universe, they use magical spells which are derived from the earth's elements. Although they are only able to use basic magic at first they are welcome in parties for the power of their spells, they are also handy in combat when party members need help with rejuvenation and resurrection.
Soldier Class
With formidable attack strength and physical endurance, Soldiers protect their comrades from enemies and eliminate evil monsters. Although they have limited use of magic, they can use almost every type of weapon in order to inflict more damage onto enemies in battles.
Select User Reviews (Edited for Presentation)
Author: kainwolfe
Rating: 9
Comment: I give R.O.S.E a 9 because of the great update recently made. You can now travel to 6 other planets. Also, there is the feature to war on an interplanetary scale. There is transportation that anyone can build to travel with. The actions of the players affects the monster spawns, weather and item price. If players trigger a major event that affects the world or the planets, the information about it is listed on the site. That's pretty interesting. The variety of selections for your character's look is still small and lowered my rating for this game. However, it's a pretty darn good game.
Author: kawaiikaren27
Rating: 9
Comment: One of the most cool games that I've played yet. This MMORPG has advanced graphics, very cute characters, and a strong emphasis on character interactions. Not only that, quests can be challenging and fun. Your role as a Visitor is not as apparent until you reach the higher levels and take part in most of the quests. Which I might add, takes a little bit of exploring to do. With character options and plenty of party members to interact with, you'll never get bored or stuck playing alone. Only thing would be the economy which is so player based that hackers have ruined most of new player's incentives to buy the cool looking equipments. But now that it is a closed Beta...hopefully everything will be fixed and they open the game back to everyone again.
Pricing Model
ROSE Online is a pay-to-play MMORPG where you can pay monthly, every two months, every three months, or every 6 months. Depending on how you pay, the price starts as high as $12.99 per month and then goes down with longer term plans. As can be found in the MMORPG Free Trial Lair, Rose Online also offers a free 7 day trial. European players can access Rose Online at Rose Europe.
Past Featured Online Games of the Week:
Conquer Online
A free MMORPG set in an ancient Chinese Kungfu world with nice anime-style graphics.
Rubies of Eventide
A free MMORPG that melds 3D graphics with incredibly deep gameplay.
Ragnarok Online
Popular MMO with cartoon graphics and several innovative features, Ragnarock Online.
Ashen Empires
Medieval Fantasy MMORPG that was once known as Dransik.
Pardus
Free Massive Multiplayer Online Browser Game (MMOBG) where you can trade or pillage in space.
FlyFF: Fly For Fun
Check out a free MMORPG with colorful graphics and solid gameplay where players fly on boards and broomsticks.
Puzzle Pirates
Assume the role of a pirate on the high seas in this puzzling free MMORPG.
Maple Story
Take a look at a MMORPG with cartoon-style graphics that is free to download and play.
GunZ
A game that lets you live out your action movie fantasies online.
BattleMaster
A little-known free Online RPG with strong strategy elements.
Adventure Quest
Take a closer look at one of the more colorful free online RPGs.
Knight Online
Check out one of the best free 3D MMORPGs.
RuneScape
GameOgre.com takes a closer look at one of the more popular Free MMORPGs.