Anarchy Online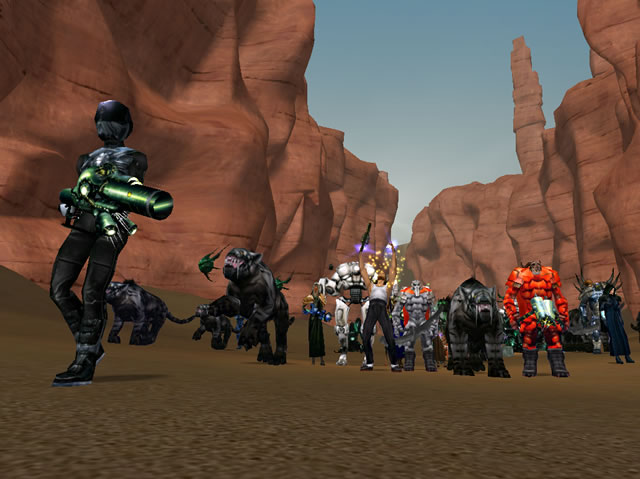 Game Description and Comments
Anarchy Online has been one of the top scifi MMORPGs for several years now. This MMORPG did not get off to a great step with its initial launch, but built a much better MMO with its vaunted ShadowLands (second screenshot) expansion pack. This expansion pack added tons of new content and is probably one of the best expansion packs of any MMO yet.
However, Anarchy Online followed up the success of ShadowLands with a couple of questionable moves that ultimately got it dropped from GameOgre's Top 10 MMORPG list. First, Anarchy Online followed a great expansion with a very mediocre one that did not really add much to the game. Alien Invasion (last screenshot) may sound cool but the execution did not deliver on the potential. Secondly, Anarchy Online became the NetZero of MMORPGs by offering a free version with in-game advertising. This move was innovative but the reception for it has been mixed thus far as some gamers like it and some do not.
Select User Reviews (Edited for Presentation)
Author: Etang
Rating: 10
Comment: Been playing this game for over a year now. As Bob Frank mentioned, the game is insanely complicated and does take around 2 weeks to get used to. However, after playing AO and then trying other MMO's, I am usually disappointed at how simple they are.

Free accounts are good, but to be competitive in PvP at higher levels you need the expansions. PvP at low levels is great though. In addition, battles between the clan and Omni actually have an effect on the greater community. This effect comes in the form of experience bonuses to the side winning the most battles.

Anarchy Online has a fantastic community. More than enough people are always willing to help and, even after a year, I find myself asking questions. There is so much to learn about this game and the free part is only HALF the game. The Shadowlands expansion adds a whole new world with even better graphics and and a great story.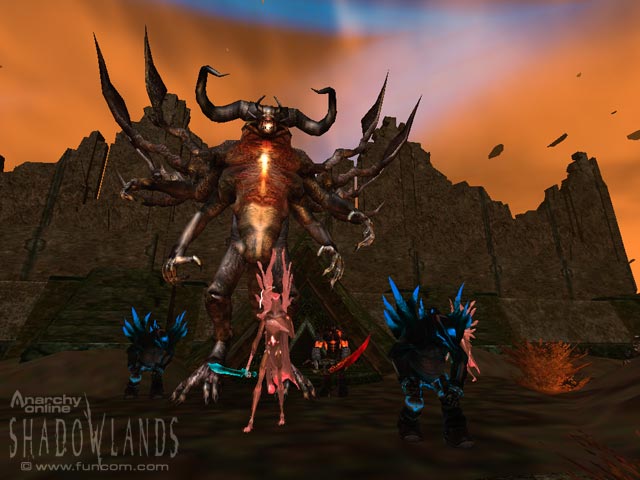 Author: Bob Frank
Rating: 10
Comment: My favorite MMORPG.

The graphics are quite good and the world is huge. This huge world is so packed with players that you're never completely alone. There are thousands of different weapons, armor, and gadgets. There is also a lot more to do than just quest and grind. Parties are actually fun and the GMs enjoy themselves by making random events every now and then.

The only real bad thing about the game is that the combat is slow and that it has a hideously complicated learning curve. However, you should get the hang of it two weeks. Once you get the in the swing of the game, it suddenly hits you that Anarchy Online is the best MMORPG ever made!
Author: ossy
Rating: 10
Comment: I downloaded this game with full intentions of just playing for free and not upgrading. However, I played for a few months and got addicted. The game play and community of Anarchy Online is incredible. For anyone that is wanting to download and play AO, I advise you to do so. You should also bring a few friends too so you wont feel alone and will have a constant team for missions or dungeons.

I can honestly say that AO is a bit complicated to learn. Nevertheless, you are aided by help boxes, training areas (best known to its community as newbie island), GMs and the community.

Finding an organization will be a good idea once you have got the basics of the game down. There are a lot of organizations out there that are willing to take on new players and help them. Thus, my opinion is to not put it down until you have tried it.
Pricing Model
Anarchy Online is a pay-to-play MMORPG, but does have a free component where you see ads in the game. This free version only covers the original game and not the three expansion packs. In other words, no ShadowLands.
If you want more, Anarchy Online has a 7 day free trial for the regular version of the game. You will need a credit card for the free trial. The regular version of the game starts at $14.95 per month, but goes down as you purchase more time at once.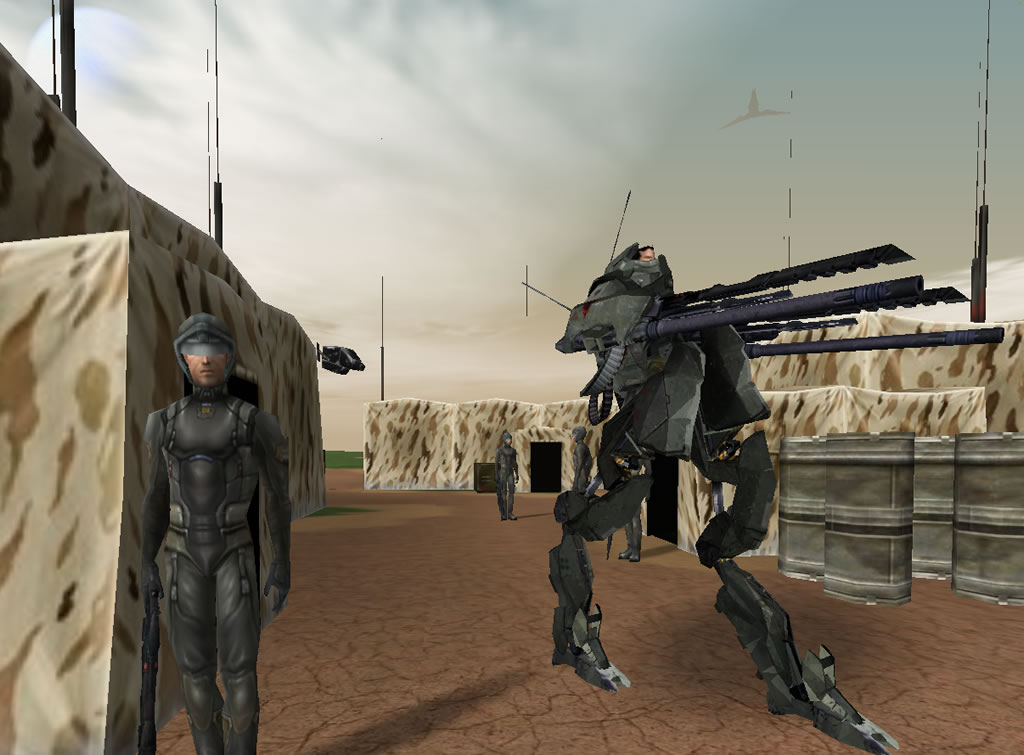 Past Featured Online Games of the Week:
Eve Online
Science-fiction MMO that gives you considerable freedom in space, Eve Online.
Supreme Destiny
Free 3D MMORPG with both an English and a Korean version.
Guild Wars
Retail RPG with free online play that won GameOgre.com's Best Gaming Value award for 2005.
Thang Online
Free 3D MMORPG with a huge focus on action and a unique monster system, Thang Online.
ROSE Online
Cartoon-style MMORPG where you can have a major effect on the gaming world.
Conquer Online
A free MMORPG set in an ancient Chinese Kungfu world with nice anime-style graphics.
Rubies of Eventide
A free MMORPG that melds 3D graphics with incredibly deep gameplay.
Ragnarok Online
Popular MMO with cartoon graphics and several innovative features, Ragnarock Online.
Ashen Empires
Medieval Fantasy MMORPG that was once known as Dransik.
Pardus
Free Massive Multiplayer Online Browser Game (MMOBG) where you can trade or pillage in space.
FlyFF: Fly For Fun
Check out a free MMORPG with colorful graphics and solid gameplay where players fly on boards and broomsticks.
Puzzle Pirates
Assume the role of a pirate on the high seas in this puzzling free MMORPG.
Maple Story
Take a look at a MMORPG with cartoon-style graphics that is free to download and play.
GunZ
A game that lets you live out your action movie fantasies online.
BattleMaster
A little-known free Online RPG with strong strategy elements.
Adventure Quest
Take a closer look at one of the more colorful free online RPGs.
Knight Online
Check out one of the best free 3D MMORPGs.
RuneScape
GameOgre.com takes a closer look at one of the more popular Free MMORPGs.