Renaissance Kingdoms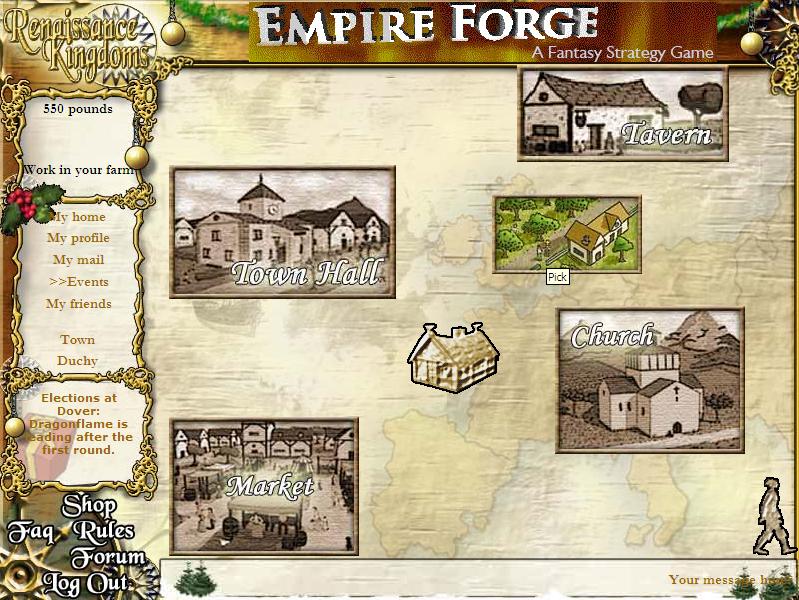 Game Description and Comments
Unlike most Online RPGs, Renaissance Kingdoms takes place in a realistic setting. Instead of fighting dragons or spaceships, players in Renaissance Kingdoms test their wits against other players in Western Europe during the Middle Ages. Players can take many different paths such as being a politician, a monk, a merchant, a thief, a rebel, or even a town drunk.
The politics are extremely interesting because you can be elected mayor of town and the game's website will even announce those players that have been elected! That type of interaction is hard to find and it sets the game even further apart from its fantasy peers. In fact, Renaissance Kingdoms has not only being rated as one of the Top 10 Online Games by GameOgre.com Review Members but is also the current number one game on our Top 10 Online RPG list as well.
Select User Reviews (Edited for Presentation)
Author: korben
Rating: 10
Comment: You will find whatever you want in this game: politics, economics, strategy, and history! Everything is possible since it is based on roleplaying and interaction between players. Renaissance Kingdoms is also a really good way to meet people. Definitely my favorite online game!
Author: anto_capone
Rating: 10
Comment: This game is hot. Climb the political ladder or drink yourself to death. Fight criminals wherever they arise or create your own criminal empire. Constantly updated and great service and support. User-friendly interface and a great forum brings the game to life. Just another quiet day in Renaissance Kingdoms.
Author: LongJohnSilver
Rating: 10
Comment: It is such a great game! The atmosphere is terrific. You feel like you are really playing an online game with other human beings and not with bots. Any action you make has an effect on other players and on the whole universe.
Author: shaitan393
Rating: 10
Comment: This is an excellent game for economics and politics. In fact, it has politics in all it's mudslinging glory. Because it encourages people to act normal, you get a much more fulfilling feeling out of making trouble than in most games. This review is being posted by the greatest troublemaker that the Kingdom of England has ever known.
Pricing Model
Renaissance Kingdoms is completely free to play.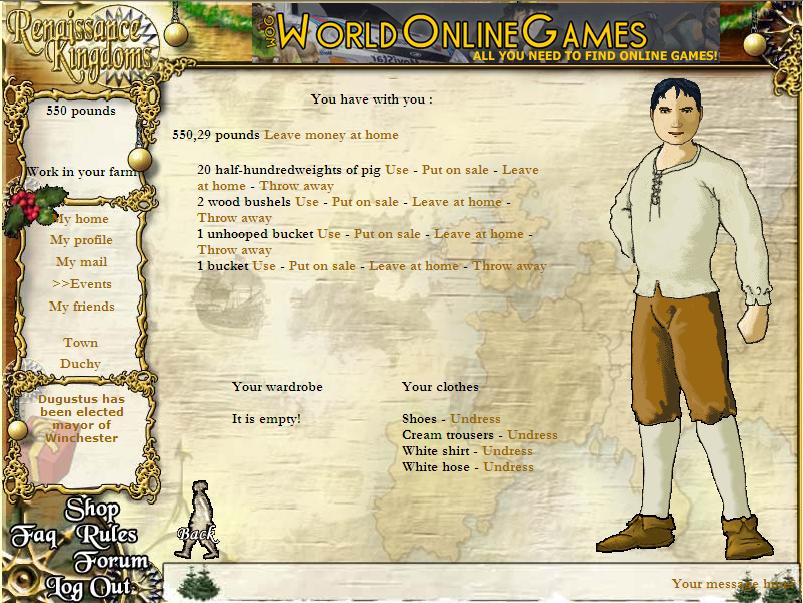 Past Featured Online Games of the Week:
Xiah
Free 3D MMORPG with a martial arts theme that gamers may want to avoid for the foreseeable future.
Endless Online
Small fantasy MMORPG that has anime graphics and is free to play.
Little Fighter 2
Arcade-style fighting with very colorful characters that can be played online.
Hobo Wars
Free Online RPG with heaping doses of originality and humor.
Neocron 2
Controversial MMO that offers both FPS and RPG elements.
Anarchy Online
Major sci-fi MMORPG with both a pay-to-play and a free version, Anarchy Online.
Eve Online
Science-fiction MMO that gives you considerable freedom in space, Eve Online.
Supreme Destiny
Free 3D MMORPG with both an English and a Korean version.
Guild Wars
Retail RPG with free online play that won GameOgre.com's Best Gaming Value award for 2005.
Thang Online
Free 3D MMORPG with a huge focus on action and a unique monster system, Thang Online.
ROSE Online
Cartoon-style MMORPG where you can have a major effect on the gaming world.
Conquer Online
A free MMORPG set in an ancient Chinese Kungfu world with nice anime-style graphics.
Rubies of Eventide
A free MMORPG that melds 3D graphics with incredibly deep gameplay.
Ragnarok Online
Popular MMO with cartoon graphics and several innovative features, Ragnarock Online.
Ashen Empires
Medieval Fantasy MMORPG that was once known as Dransik.
Pardus
Free Massive Multiplayer Online Browser Game (MMOBG) where you can trade or pillage in space.
FlyFF: Fly For Fun
Check out a free MMORPG with colorful graphics and solid gameplay where players fly on boards and broomsticks.
Puzzle Pirates
Assume the role of a pirate on the high seas in this puzzling free MMORPG.
Maple Story
Take a look at a MMORPG with cartoon-style graphics that is free to download and play.
GunZ
A game that lets you live out your action movie fantasies online.
BattleMaster
A little-known free Online RPG with strong strategy elements.
Adventure Quest
Take a closer look at one of the more colorful free online RPGs.
Knight Online
Check out one of the best free 3D MMORPGs.
RuneScape
GameOgre.com takes a closer look at one of the more popular Free MMORPGs.