Auto Assault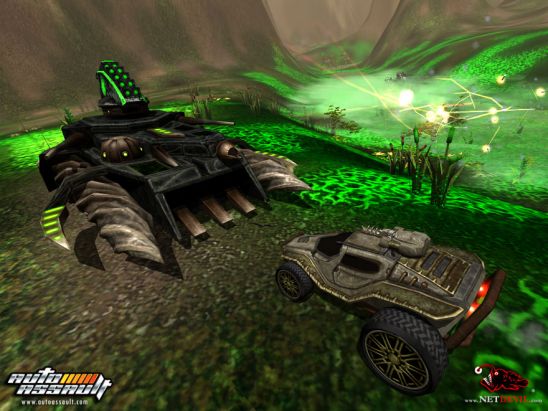 Game Description and Comments
Auto Assault is a 3D MMORPG in an apocalyptic setting that mainly takes place behind an armed-to-the-tooth vehicle. You can customize these vehicles and reek havoc on the environment by blowing up nearly everything around you. For example, you can upgrade your vehicle's armor, change its weapons, alter its look with several different options, and even name your rolling force of destruction. You can also customize your character, but character customization is not as detailed as what you can do with your vehicles.
The launch of this game was delayed several months due to feedback during its beta and the results are so far mostly positive. Instead of being the MMO version of Twisted Metal, Auto Assault does have considerable depth for an action MMO due in large part to its well-done crafting system. With this crafting system you can repair items, memorize how to craft certain items, disassemble them, and increase the stats on items through enhancements and gadget slots. Crafting lets you customize your vehicles even more to the point that some can be very unique.
The negatives of Auto Assault are in some ways very similar to City of Heroes. Both have great concepts with substantial potential but neither launched with a decent PvP element and both can get somewhat repetitive fairly quickly. In addition, Auto Assault has one of the steepest system requirements of any current MMO. Not only does the game require a start-of-the-art rig to handle the beautiful graphics and fast-paced game play, but you may also find yourself wanting to use a steering wheel instead of just a keyboard. Having said that, though, Auto Assault is still one of the better MMOs for casual gamers looking to try something besides the standard fantasy/sci-fi fare.
Select User Reviews (Edited for Presentation)
Author: Banger
Rating: 7
Comment: Fun game where you can blow up pretty much anything, but it lacks a good end game and the PvP is barely there.
Rating: 10
Author: average_joe
Comment: A fantastic game.
Rating: 7
Author: ouchie
Comment: Cool game but gets old fast. Hopefully, they will continue to improve it.
Pricing Model
Auto Assault requires a monthly fee of about $15. You can also purchase time by using a time card.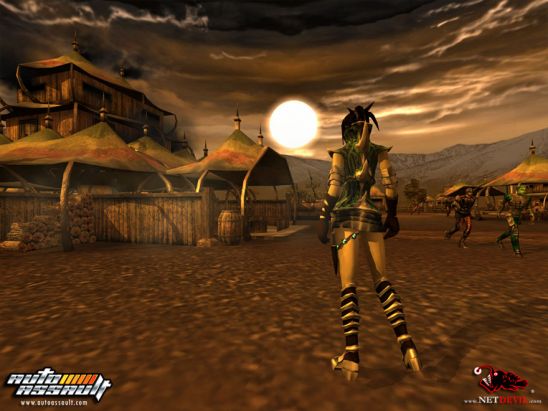 Past Featured Online Games of the Week:
Monster and Me
MMORPG intended primarily for younger audiences that is free to play and focuses on pets.
The Saga of Ryzom
Beautiful 3D MMORPG with an intriguing storyline and considerable character freedom.
GunBound
Innovative shooting game with cartoony graphics that lets you face other players in front of an audience.
Shadowbane
A PvP oriented MMO with both RPG and RTS elements.
Silkroad Online
A 3D MMORPG with both historic and fantasy worlds.
RF Online
A sci-fi MMORPG with anime graphics that focuses on PvP.
Renaissance Kingdoms
Very interactive free online RPG with great political and economic aspects.
Xiah
Free 3D MMORPG with a martial arts theme that gamers may want to avoid for the foreseeable future.
Endless Online
Small fantasy MMORPG that has anime graphics and is free to play.
Little Fighter 2
Arcade-style fighting with very colorful characters that can be played online.
Hobo Wars
Free Online RPG with heaping doses of originality and humor.
Neocron 2
Controversial MMO that offers both FPS and RPG elements.
Anarchy Online
Major sci-fi MMORPG with both a pay-to-play and a free version, Anarchy Online.
Eve Online
Science-fiction MMO that gives you considerable freedom in space, Eve Online.
Supreme Destiny
Free 3D MMORPG with both an English and a Korean version.
Guild Wars
Retail RPG with free online play that won GameOgre.com's Best Gaming Value award for 2005.
Thang Online
Free 3D MMORPG with a huge focus on action and a unique monster system, Thang Online.
ROSE Online
Cartoon-style MMORPG where you can have a major effect on the gaming world.
Conquer Online
A free MMORPG set in an ancient Chinese Kungfu world with nice anime-style graphics.
Rubies of Eventide
A free MMORPG that melds 3D graphics with incredibly deep gameplay.
Ragnarok Online
Popular MMO with cartoon graphics and several innovative features, Ragnarock Online.
Ashen Empires
Medieval Fantasy MMORPG that was once known as Dransik.
Pardus
Free Massive Multiplayer Online Browser Game (MMOBG) where you can trade or pillage in space.
FlyFF: Fly For Fun
Check out a free MMORPG with colorful graphics and solid gameplay where players fly on boards and broomsticks.
Puzzle Pirates
Assume the role of a pirate on the high seas in this puzzling free MMORPG.
Maple Story
Take a look at a MMORPG with cartoon-style graphics that is free to download and play.
GunZ
A game that lets you live out your action movie fantasies online.
BattleMaster
A little-known free Online RPG with strong strategy elements.
Adventure Quest
Take a closer look at one of the more colorful free online RPGs.
Knight Online
Check out one of the best free 3D MMORPGs.
RuneScape
GameOgre.com takes a closer look at one of the more popular Free MMORPGs.