Starport: Galactic Empires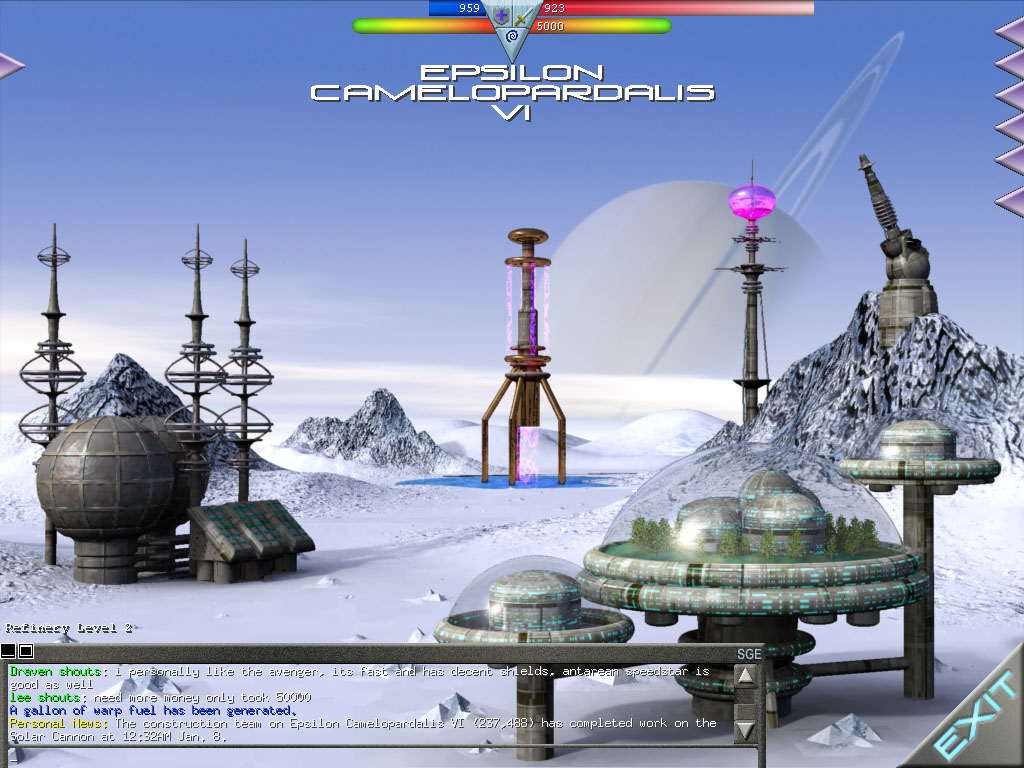 Game Description and Comments
Starport: Galactic Empires is a free online strategy game. Unlike some free online strategy games, Starport or SGE is a fully graphical action game. You can either try to come out on top of other players in a two-week game period or you can play on a persistent server.
You start out as a lowly spaceship captain but you will be able to upgrade your ship as you earn funds hauling cargo and passengers. Think of Han Solo in Star Wars transporting passengers through dangerous environments and you get an idea of this phase of the game.
The strategy of the game really kicks into overdrive when you claim a world and start building your empire. Not only do you have to keep your world properly defended but you must also keep your colonists happy, find trade routes, develop resources, and discover technologies.
Select User Reviews (Edited for Presentation)
Author: Zain020
Rating: 8
Comment: Really enjoyed game. Great for any PC whether fast or slow. A lot of patching.
Author: MadAce
Rating: 10
Comment: I (and many players with me) like the very addictive game play, together with the PvP. Yes, it is hardcore player versus player. No, it is not a fighting game 100%. It involves a lot of strategy and long-term reflection. You have to plan ahead.
There are two types of servers. Perma s (never-ending servers, each of them quite unique) and rebangs (servers that can last up to 18 days, and the highest ranking players are rewarded with a medal, a status symbol) both have similar game play and goals but both are equally accessible. You can team up in corporations, which is VERY fun. You can also fight over galactic domination. This isn't like in other mmo where the devs "create" wars, regions and such to get players to fight. In SGE you can decide that yourself. Thus, an average server is filled with politics, intrigue, wars and struggles for power.
You might think that this is a mean community, aiming for the demise of their fellow-players. Big mistake. The community is one of the most open ones around by far. It is possible to encounter the wrong person, but unlikely. MANY people are really willing to help you out as a new player and will continue to do that since there is so much to learn. It seems like a simplistic game, but it really isn't. You can get to Galactic Domination in a lot of ways.
There is also a great deal of close contact with the developers. They often listen and they tend to tell why they implement certain changes. There is a steep learning curve. Although the developers did the effort to implement a tutorial, it is not a kiddie game. The community is dedicated, but this brings with it that some players get upset if the devs change some things. Remember, it involves work to build up an Empire and it is never fun to see your massive creation damaged by outer-game changes. So this tends to bring out some rivalries between players. Some players support the developers while other players question their judgment. However, this only shows how much there is to care about this game.
In conclusion, you would be a fool not to give this game a serious try. Warning: Your social life can die because of this game. Soon wars and power will be more addictive than... Food!
Review Starport: Galactic Empires
Pricing Model
Starport: Galactic Empires is currently 100% free to play. The game is funded by donations. The download is about 50 MB.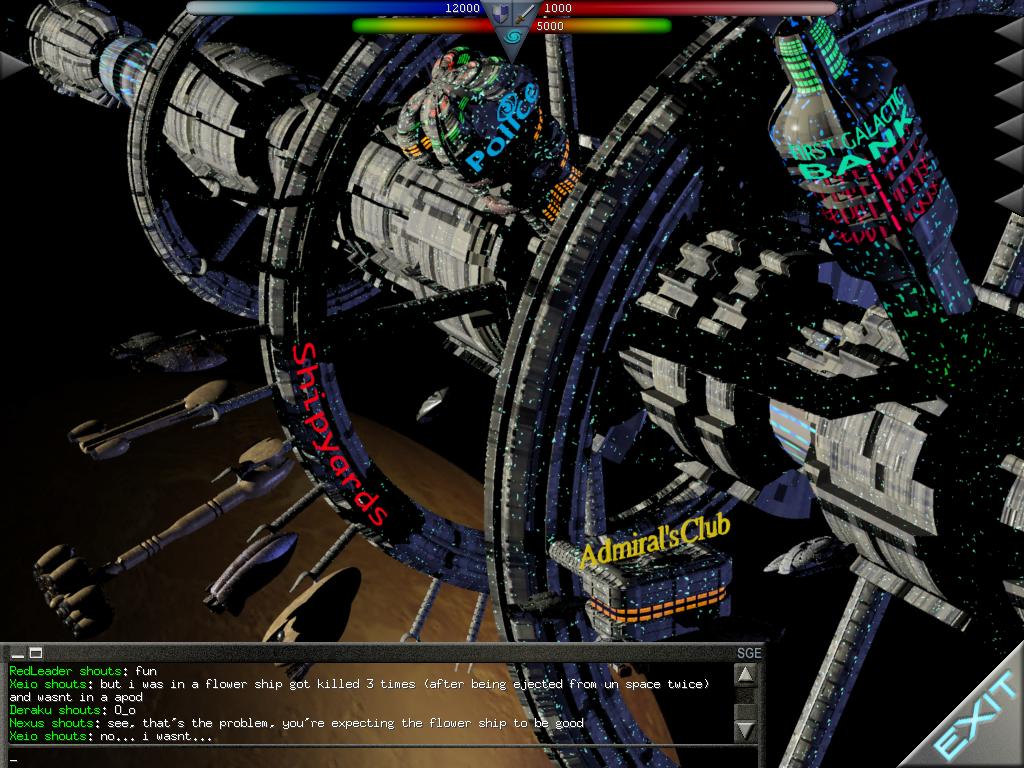 Past Featured Online Games of the Week:
Rakion
Free 3D MMO with great graphics that offers plenty of PvP action.
Auto Assault
Action 3D MMORPG where you can blow nearly anything up.
Monster and Me
MMORPG intended primarily for younger audiences that is free to play and focuses on pets.
The Saga of Ryzom
Beautiful 3D MMORPG with an intriguing storyline and considerable character freedom.
GunBound
Innovative shooting game with cartoony graphics that lets you face other players in front of an audience.
Shadowbane
A PvP oriented MMO with both RPG and RTS elements.
Silkroad Online
A 3D MMORPG with both historic and fantasy worlds.
RF Online
A sci-fi MMORPG with anime graphics that focuses on PvP.
Renaissance Kingdoms
Very interactive free online RPG with great political and economic aspects.
Xiah
Free 3D MMORPG with a martial arts theme that gamers may want to avoid for the foreseeable future.
Endless Online
Small fantasy MMORPG that has anime graphics and is free to play.
Little Fighter 2
Arcade-style fighting with very colorful characters that can be played online.
Hobo Wars
Free Online RPG with heaping doses of originality and humor.
Neocron 2
Controversial MMO that offers both FPS and RPG elements.
Anarchy Online
Major sci-fi MMORPG with both a pay-to-play and a free version, Anarchy Online.
Eve Online
Science-fiction MMO that gives you considerable freedom in space, Eve Online.
Supreme Destiny
Free 3D MMORPG with both an English and a Korean version.
Guild Wars
Retail RPG with free online play that won GameOgre.com's Best Gaming Value award for 2005.
Thang Online
Free 3D MMORPG with a huge focus on action and a unique monster system, Thang Online.
ROSE Online
Cartoon-style MMORPG where you can have a major effect on the gaming world.
Conquer Online
A free MMORPG set in an ancient Chinese Kungfu world with nice anime-style graphics.
Rubies of Eventide
A free MMORPG that melds 3D graphics with incredibly deep gameplay.
Ragnarok Online
Popular MMO with cartoon graphics and several innovative features, Ragnarock Online.
Ashen Empires
Medieval Fantasy MMORPG that was once known as Dransik.
Pardus
Free Massive Multiplayer Online Browser Game (MMOBG) where you can trade or pillage in space.
FlyFF: Fly For Fun
Check out a free MMORPG with colorful graphics and solid gameplay where players fly on boards and broomsticks.
Puzzle Pirates
Assume the role of a pirate on the high seas in this puzzling free MMORPG.
Maple Story
Take a look at a MMORPG with cartoon-style graphics that is free to download and play.
GunZ
A game that lets you live out your action movie fantasies online.
BattleMaster
A little-known free Online RPG with strong strategy elements.
Adventure Quest
Take a closer look at one of the more colorful free online RPGs.
Knight Online
Check out one of the best free 3D MMORPGs.
RuneScape
GameOgre.com takes a closer look at one of the more popular Free MMORPGs.