Wheel of Time MUD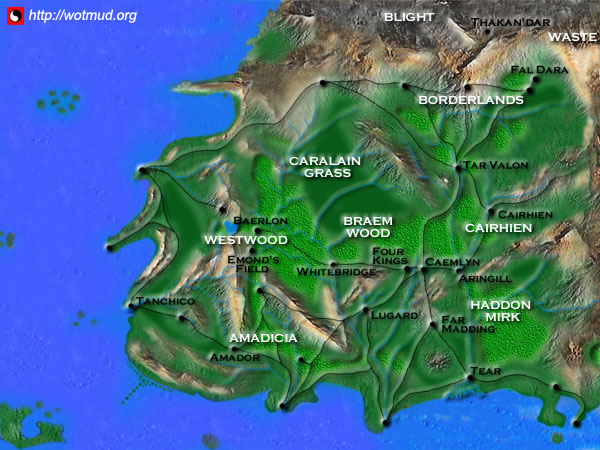 Game Description and Comments
Wheel of Time MUD is a free roleplaying and PvPing game based on the Wheel of Time novels by Robert Jordan. WoT MUD has been running since 1993 and has Robert Jordan's personal permission to run the game. For anybody not familiar with the novels, the Wheel of Time is one of the best fantasy novel series ever. In order to make the game as close to the books as possible, the Wheel of Time MUD tries to capture every inch of the epic fantasy series with a game world that consists of over 19,000 rooms. You can find all the cities, towns, monsters, characters, and races of the Wheel of Time universe. From Aes Sedai channeling the One Power to Aiel to Darkfriends betraying the Light, Wheel of Time MUD has it all.
Features
Faithful recreation of the Wheel of Time books allows for deep roleplaying.
Huge game world with over 19,000 playable rooms.
Player battles between the Dark and the Light races.
Channeling (magic) system based on the five elements: Earth, Fire, Water, Spirit, and Air.
Channeling also uses weaves and magical items known as angreal, ter'angreal, and s'angreal.
Quests are available constantly.
Detailed clan system with ranks, clan quests and clan wars.
Current clans include Aes Sedai, Warders, Children of the Light, Fades, and Wolfbrothers.
High level players get experience for helping beginners.
Players can build their own zones.
Select User Reviews (Edited for Presentation)
Rating: 10
Author: MaximillianofManetheren
Comment: If you like D&D (the original with dice) you'll love this MUD. If you also like Robert Jordan's Wheel of Time series, welcome to your new addiction. This is the only game I play online. I will probably never need to play another. I do not foresee becoming bored with this one any time soon.
Rating: 10
Author: Thayla
Comment: I have been mudding for about 5 years off and on now. If you are looking for a good WOT based mud, then look no further because this is it. The Wheel of Time MUD is far superior in detail and complexity to any other mud that I have come across. I also found it to be more comprehensible as far as learning how to play and getting started than a lot of other MUDs out there. The creators did an excellent job in keeping the world true to the actual series. I am very Impressed. Also very detailed and beautiful descriptions.
Rating: 8
Author: nass
Comment: It is a genuine Wheel of Time game community, from snooty Aes Sedai who are resented and feared because of their power, to brutal Trollocs who slay anything that comes their way, and the game tries, as far as is reasonably possible, to endow the various Wheel of Time caricatures with the attributes you would expect. For example, warders are tough as heck (but then so are fades).
Rating: 10
Author: bock
Comment: Having played countless online games since first logging on to a BBS with my Apple IIe and 300 baud modem in the early 80s, WoT MUD is probably the best MUD I have seen. Like Robert Jordan's books, danger can appear at any time and in many forms. This is an unrestricted PK/PVP (Player-killing or Player v. Player) MUD, so one of the evil Trollocs or perhaps one of the returning Seanchan will attack you! Or perhaps you want to BE one of the evil Trollocs? You can do it!
With three sides to choose from (Light side, Dark side, Seanchan), the PK and role-playing opportunities are seemingly endless. The world is huge. The playerbase is large. Whether you are into exploring, PKing, RPing or meeting new friends, WoT MUD has much to offer.
It does take a small amount of effort to truly learn the game (and I am still learning, trust me), but the help boards contain a wealth of information regarding characters, classes, weapons, PK help, RP help, etc. And I have found that overall the playerbase is very helpful when you are starting out. Some may enjoy those so-called "graphic" online games, but with WoT MUD, the theatre of the mind rules! I still recall the first time I ran into a Trolloc and I was away from town... the adrenalin rush, the shakes, and the excitement as I fled for my life! If you have played MUDs before, you need to give the Wheel of Time MUD a spin. If you haven't, give it a shot and in a short amount of time you will probably become one of the many ADDICTS who consider this place home. The admins are continually and actively working to improve the game, so the future for this game is very bright.
Pricing Model
The Wheel of Time MUD is completely free.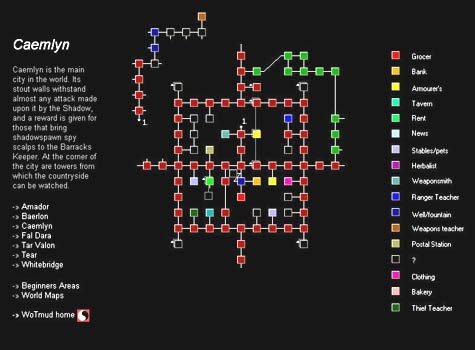 Past Featured Online Games of the Week:
Trash
Online RTS game that supports up to 24 players at once and lets you play the human side of the human-mutant conflict for free.
Blood Clans
Free Online RPG with 3D graphics and a focus on playing in clans.
Navy Field
War strategy MMO with RPG elements that can be played for free until level 30.
Guild Wars Factions
Stand alone campaign with new PvP and guild features that also offers free online play.
Starport: Galactic Empires
Free graphical strategy game where you can either play on a persistent server or try to win a 2 week game period.
Rakion
Free 3D MMO with great graphics that offers plenty of PvP action.
Auto Assault
Action 3D MMORPG where you can blow nearly anything up.
Monster and Me
MMORPG intended primarily for younger audiences that is free to play and focuses on pets.
The Saga of Ryzom
Beautiful 3D MMORPG with an intriguing storyline and considerable character freedom.
GunBound
Innovative shooting game with cartoony graphics that lets you face other players in front of an audience.
Shadowbane
A PvP oriented MMO with both RPG and RTS elements.
Silkroad Online
A 3D MMORPG with both historic and fantasy worlds.
RF Online
A sci-fi MMORPG with anime graphics that focuses on PvP.
Renaissance Kingdoms
Very interactive free online RPG with great political and economic aspects.
Xiah
Free 3D MMORPG with a martial arts theme that gamers may want to avoid for the foreseeable future.
Endless Online
Small fantasy MMORPG that has anime graphics and is free to play.
Little Fighter 2
Arcade-style fighting with very colorful characters that can be played online.
Hobo Wars
Free Online RPG with heaping doses of originality and humor.
Neocron 2
Controversial MMO that offers both FPS and RPG elements.
Anarchy Online
Major sci-fi MMORPG with both a pay-to-play and a free version, Anarchy Online.
Eve Online
Science-fiction MMO that gives you considerable freedom in space, Eve Online.
Supreme Destiny
Free 3D MMORPG with both an English and a Korean version.
Guild Wars
Retail RPG with free online play that won GameOgre.com's Best Gaming Value award for 2005.
Thang Online
Free 3D MMORPG with a huge focus on action and a unique monster system, Thang Online.
ROSE Online
Cartoon-style MMORPG where you can have a major effect on the gaming world.
Conquer Online
A free MMORPG set in an ancient Chinese Kungfu world with nice anime-style graphics.
Rubies of Eventide
A free MMORPG that melds 3D graphics with incredibly deep gameplay.
Ragnarok Online
Popular MMO with cartoon graphics and several innovative features, Ragnarock Online.
Ashen Empires
Medieval Fantasy MMORPG that was once known as Dransik.
Pardus
Free Massive Multiplayer Online Browser Game (MMOBG) where you can trade or pillage in space.
FlyFF: Fly For Fun
Check out a free MMORPG with colorful graphics and solid gameplay where players fly on boards and broomsticks.
Puzzle Pirates
Assume the role of a pirate on the high seas in this puzzling free MMORPG.
Maple Story
Take a look at a MMORPG with cartoon-style graphics that is free to download and play.
GunZ
A game that lets you live out your action movie fantasies online.
BattleMaster
A little-known free Online RPG with strong strategy elements.
Adventure Quest
Take a closer look at one of the more colorful free online RPGs.
Knight Online
Check out one of the best free 3D MMORPGs.
RuneScape
GameOgre.com takes a closer look at one of the more popular Free MMORPGs.