Dark and Light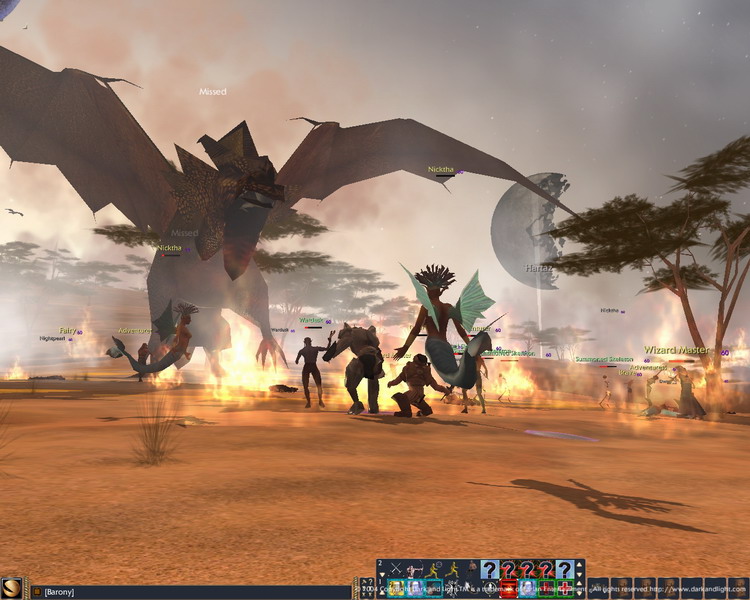 Game Description and Comments
Dark and Light is a recently launched fantasy MMORPG that bills itself as "The Largest Massively Multiplayer Online Roleplaying Game (MMORPG) you've ever seen!" The reason for this claim is that the game's playing world consists of over 15,000 square-miles of land. In addition, the game has no zones and no loading times so all the players exist in the same world at once. Don't worry about footing it to every location because the game uses a warping system and a interesting transportation system that allows you to fly in many cool ways such as on the back of a dragon! The interesting concepts do not stop with the size of the world or the transportation system as Dark and Light also offers a fairly different pricing model (discussed below), a strong focus on the social aspect of the game, and crafting experience points. In fact, some of the concepts such as having no zones and focusing on social interactivity make this game very different from the MMORPG juggernaut, World or Warcraft. Only time will tell if Dark and Light can deliver on its considerable potential though.
Features
Over 15,000 square-miles of land.
No different zones to eliminate loading times.
Travel the large game world on a glider, parachute, or even a dragon.
Different types of experience points such as craft XP, fight XP, and social XP.
12 races that include Fairies, Gnomes, High-Elves, Dark-Elves, Wood-Elves, Half-Elves, Humans, Lutins, Half-Orcs, Braves, Half-Trolls, and Dwarves.
4 key archetypes (Fighter, Healer, Mage, Hunter) that become a total of 14 classes: Shadow Knight, Warrior, Paladin, Archer, Ranger, Thief, Bard, Cleric, Monk, Druid, Enchanter, Illusionist, Necromancer, and Wizard.
Social-minded players are rewarded.
Can achieve such prestigious titles as count, baron, duke, and king.
Crafting system based on five families of crafting: armorer, blacksmith, tanner, tailor, and jeweler.
Assault and maintain fortresses.
Watch days and seasons change due to one day being 84 minutes and 1 year being 480 days in the game.
Allegiances to factions play a large role.
Select User Reviews (Edited for Presentation)
Author: nevarine
Rating: 10
Comment: Better than most pay-to-play RPGs.
Author: simpelekees
Rating: 8
Comment: I think its great to play in large areas and have the opportunity to discover a big world. Still I hope graphics and gameplay wont be too bad. Graphics for sure, because its difficult to show such a big world in such beauty. I give it an 8.
Author: kylecameron1
Rating: 10
Comment: A transportation system sounds cool.
Pricing Model
Dark and Light has very two different pricing models. The Master Subscription is $14.99 per month and allows unlimited play without any restrictions. The Freedom Card method bypasses the monthly fee for $14.99 but players lose access to some features and are charged credits for a few others.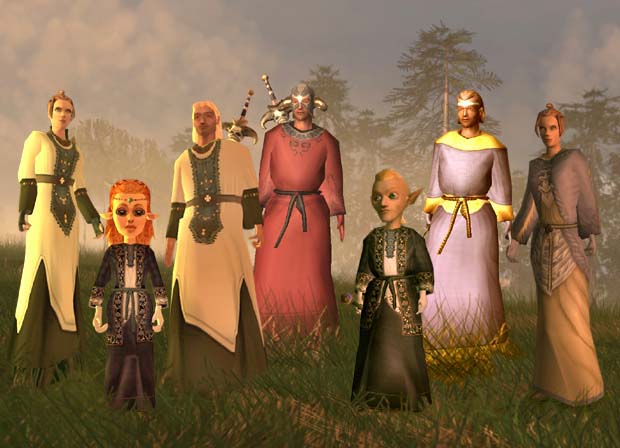 Past Featured Online Games of the Week:
Wheel of Time MUD
Free text-based RPG/MUD based on one of the greatest fantasy novel series ever.
Trash
Online RTS game that supports up to 24 players at once and lets you play the human side of the human-mutant conflict for free.
Blood Clans
Free Online RPG with 3D graphics and a focus on playing in clans.
Navy Field
War strategy MMO with RPG elements that can be played for free until level 30.
Guild Wars Factions
Stand alone campaign with new PvP and guild features that also offers free online play.
Starport: Galactic Empires
Free graphical strategy game where you can either play on a persistent server or try to win a 2 week game period.
Rakion
Free 3D MMO with great graphics that offers plenty of PvP action.
Auto Assault
Action 3D MMORPG where you can blow nearly anything up.
Monster and Me
MMORPG intended primarily for younger audiences that is free to play and focuses on pets.
The Saga of Ryzom
Beautiful 3D MMORPG with an intriguing storyline and considerable character freedom.
GunBound
Innovative shooting game with cartoony graphics that lets you face other players in front of an audience.
Shadowbane
A PvP oriented MMO with both RPG and RTS elements.
Silkroad Online
A 3D MMORPG with both historic and fantasy worlds.
RF Online
A sci-fi MMORPG with anime graphics that focuses on PvP.
Renaissance Kingdoms
Very interactive free online RPG with great political and economic aspects.
Xiah
Free 3D MMORPG with a martial arts theme that gamers may want to avoid for the foreseeable future.
Endless Online
Small fantasy MMORPG that has anime graphics and is free to play.
Little Fighter 2
Arcade-style fighting with very colorful characters that can be played online.
Hobo Wars
Free Online RPG with heaping doses of originality and humor.
Neocron 2
Controversial MMO that offers both FPS and RPG elements.
Anarchy Online
Major sci-fi MMORPG with both a pay-to-play and a free version, Anarchy Online.
Eve Online
Science-fiction MMO that gives you considerable freedom in space, Eve Online.
Supreme Destiny
Free 3D MMORPG with both an English and a Korean version.
Guild Wars
Retail RPG with free online play that won GameOgre.com's Best Gaming Value award for 2005.
Thang Online
Free 3D MMORPG with a huge focus on action and a unique monster system, Thang Online.
ROSE Online
Cartoon-style MMORPG where you can have a major effect on the gaming world.
Conquer Online
A free MMORPG set in an ancient Chinese Kungfu world with nice anime-style graphics.
Rubies of Eventide
A free MMORPG that melds 3D graphics with incredibly deep gameplay.
Ragnarok Online
Popular MMO with cartoon graphics and several innovative features, Ragnarock Online.
Ashen Empires
Medieval Fantasy MMORPG that was once known as Dransik.
Pardus
Free Massive Multiplayer Online Browser Game (MMOBG) where you can trade or pillage in space.
FlyFF: Fly For Fun
Check out a free MMORPG with colorful graphics and solid gameplay where players fly on boards and broomsticks.
Puzzle Pirates
Assume the role of a pirate on the high seas in this puzzling free MMORPG.
Maple Story
Take a look at a MMORPG with cartoon-style graphics that is free to download and play.
GunZ
A game that lets you live out your action movie fantasies online.
BattleMaster
A little-known free Online RPG with strong strategy elements.
Adventure Quest
Take a closer look at one of the more colorful free online RPGs.
Knight Online
Check out one of the best free 3D MMORPGs.
RuneScape
GameOgre.com takes a closer look at one of the more popular Free MMORPGs.