Lands of Hope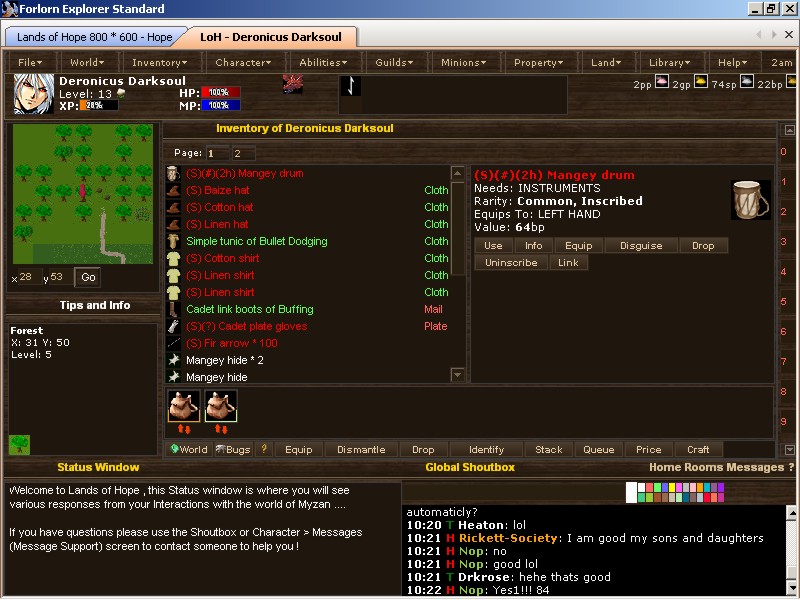 Game Description and Comments
Lands of Hope is a browser-based MUD with a fantasy style setting. Most MUDs are usually text-based, but LoH uses thousands of graphics to further enhance a very deep game. The depth of the game can be seen by the choices and freedom that it offers. Instead of having a handful of professions or races to choose from, LoH lets you choose between at least 40 of each! You can also choose between a wide variety of pets, minions, crafts, and gathering skills. You even get a choice as to whether you want PVP and griefing or not. Overall, this is one of the better MUDs on the Internet and is consistently ranked on the Top 10 Online Games list by GameOgre.com Review Directory members.
Storyline
LoH takes place in the fictional lands of Myzan, a place with a long history and a place that has been thrust into a bitter conflict. The King has been usurped, and removed from the throne by an act of treachery led by one of his closest friends and a band of nobles calling themselves the Society. The King and his allies are forced into Exile, but continue to fight on in small skirmishes and hit-and-run style attacks.
Features
Thousands of graphics.
45 professions and 40 races.
Evolution-based profession and race advancement allow you to evolve as you level up.
Skills improve as they are used.
Pet system that allows you to train pets/minions based on your profession such as Necromancy lets you tame the undead, Druid Magic lets you tame plants, Beastmastery allows you to tame animals, and Slavemastery lets you tame humanoids.
Advance crafting system with a plethora of different crafting areas including Stonemasonary, Tinkering, Construction, Carpentry, Leatherworking, Alchemy, and Blacksmithing.
Gathering skills that include Farming, Fishing, Foraging, Geology, Mining, Lumberjacking, and Skinning.
The maximum level that you can reach is 1000.
Four allegiances to choose from: Neutral, Exiles, Reapers, and Society.
The sieging of buildings is done with a turn-based system.
Interesting player-ran building system that allows you customize a list of friends who can enter the building, you can delete or add rooms, and you can change the preview image for each room.
One server offers PvP and griefing (Hellsgate), while the other only offers PvE (Trollsgrove).
Select User Reviews (Edited for Presentation)
Author: Rastabaxus
Rating: 9
Comment: I am highly satisfied with this game. Although it doesn't have fancy graphics, it will definitely keep you coming back for more. The interface is a little daunting at first but once you get the hang of it, you will love it. The skills you can practice and master are many and there are many places to explore. Aside from that there is a great and helpful community. Great game to feel welcome in. There are some fees, but well worth it for all you get.
Author: Rafe
Rating: 10
Comment: Lands of Hope (LoH) entertains not only with stellar gameplay, but with its beautifully integrated sense of community and sociability. Under extensive development since its predecessor, Forlorn Hope, Lands of Hope does what it claims. It creates a dynamic atmosphere, provides for a close-knit population and is a well-developed game with many options available to each player. Experienced players are always readily available to help those that are in need and the game's creator himself (GM Decius) is in attendance much of the time to handle issues brought up by gamers. Having the creator in the game is a feature unique to Lands of Hope. This is what drew me to the predecessor game and keeps me continually involved with LoH. There are a 1000 possible levels in Lands of Hope; an extensive meld of intense battles; 12 epic sized maps; multitudes of skills and spells, crafting abilities, and enjoyable quests. The creator of the game claims that anyone can find their niche in the lands of Myzan. As a player, I have to agree.
Author: Darr
Rating: 10
Comment: Lands of Hope is a browser-based MMORPG with a very friendly community and a game master that's constantly helping players so that the game can be improved. The gameplay is awesome in that you can do just about anything. A very good crafting system, combat, pvp, siege warfare, bounty hunting, thievery, etc. This is the only game I know that doesn't need a heavy duty 2 gig 3d environment to hold its players interests. All I can say is, try it for yourself! You'll like it.
Pricing Model
Lands of Hope allows you to play for free until you reach level 100. After that, you will need to pay a one-time fee of $15 to continue leveling. The game also sells extras but they are not essential to play.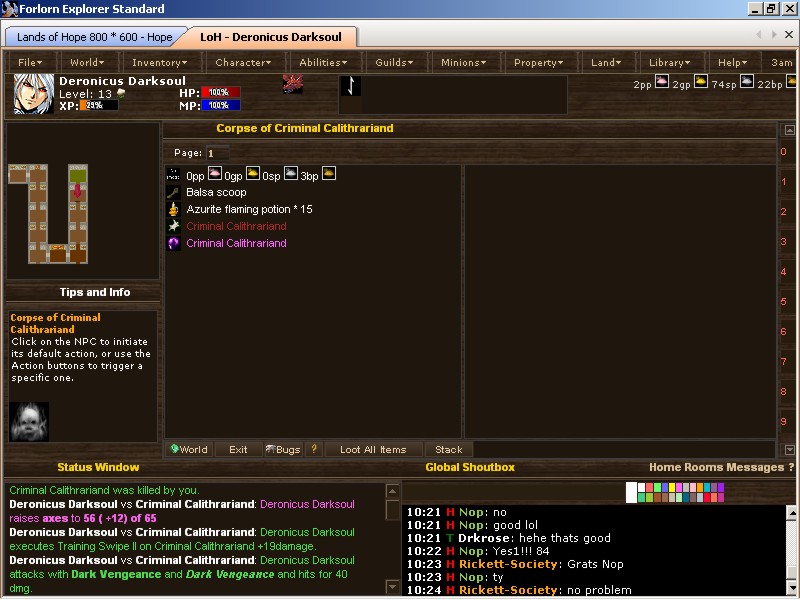 Past Featured Online Games of the Week:
Dark and Light
MMORPG that boasts over 15,000 square-miles of land in its game world, Dark and Light.
Wheel of Time MUD
Free text-based RPG/MUD based on one of the greatest fantasy novel series ever.
Trash
Online RTS game that supports up to 24 players at once and lets you play the human side of the human-mutant conflict for free.
Blood Clans
Free Online RPG with 3D graphics and a focus on playing in clans.
Navy Field
War strategy MMO with RPG elements that can be played for free until level 30.
Guild Wars Factions
Stand alone campaign with new PvP and guild features that also offers free online play.
Starport: Galactic Empires
Free graphical strategy game where you can either play on a persistent server or try to win a 2 week game period.
Rakion
Free 3D MMO with great graphics that offers plenty of PvP action.
Auto Assault
Action 3D MMORPG where you can blow nearly anything up.
Monster and Me
MMORPG intended primarily for younger audiences that is free to play and focuses on pets.
The Saga of Ryzom
Beautiful 3D MMORPG with an intriguing storyline and considerable character freedom.
GunBound
Innovative shooting game with cartoony graphics that lets you face other players in front of an audience.
Shadowbane
A PvP oriented MMO with both RPG and RTS elements.
Silkroad Online
A 3D MMORPG with both historic and fantasy worlds.
RF Online
A sci-fi MMORPG with anime graphics that focuses on PvP.
Renaissance Kingdoms
Very interactive free online RPG with great political and economic aspects.
Xiah
Free 3D MMORPG with a martial arts theme that gamers may want to avoid for the foreseeable future.
Endless Online
Small fantasy MMORPG that has anime graphics and is free to play.
Little Fighter 2
Arcade-style fighting with very colorful characters that can be played online.
Hobo Wars
Free Online RPG with heaping doses of originality and humor.
Neocron 2
Controversial MMO that offers both FPS and RPG elements.
Anarchy Online
Major sci-fi MMORPG with both a pay-to-play and a free version, Anarchy Online.
Eve Online
Science-fiction MMO that gives you considerable freedom in space, Eve Online.
Supreme Destiny
Free 3D MMORPG with both an English and a Korean version.
Guild Wars
Retail RPG with free online play that won GameOgre.com's Best Gaming Value award for 2005.
Thang Online
Free 3D MMORPG with a huge focus on action and a unique monster system, Thang Online.
ROSE Online
Cartoon-style MMORPG where you can have a major effect on the gaming world.
Conquer Online
A free MMORPG set in an ancient Chinese Kungfu world with nice anime-style graphics.
Rubies of Eventide
A free MMORPG that melds 3D graphics with incredibly deep gameplay.
Ragnarok Online
Popular MMO with cartoon graphics and several innovative features, Ragnarock Online.
Ashen Empires
Medieval Fantasy MMORPG that was once known as Dransik.
Pardus
Free Massive Multiplayer Online Browser Game (MMOBG) where you can trade or pillage in space.
FlyFF: Fly For Fun
Check out a free MMORPG with colorful graphics and solid gameplay where players fly on boards and broomsticks.
Puzzle Pirates
Assume the role of a pirate on the high seas in this puzzling free MMORPG.
Maple Story
Take a look at a MMORPG with cartoon-style graphics that is free to download and play.
GunZ
A game that lets you live out your action movie fantasies online.
BattleMaster
A little-known free Online RPG with strong strategy elements.
Adventure Quest
Take a closer look at one of the more colorful free online RPGs.
Knight Online
Check out one of the best free 3D MMORPGs.
RuneScape
GameOgre.com takes a closer look at one of the more popular Free MMORPGs.