Kingdom of Loathing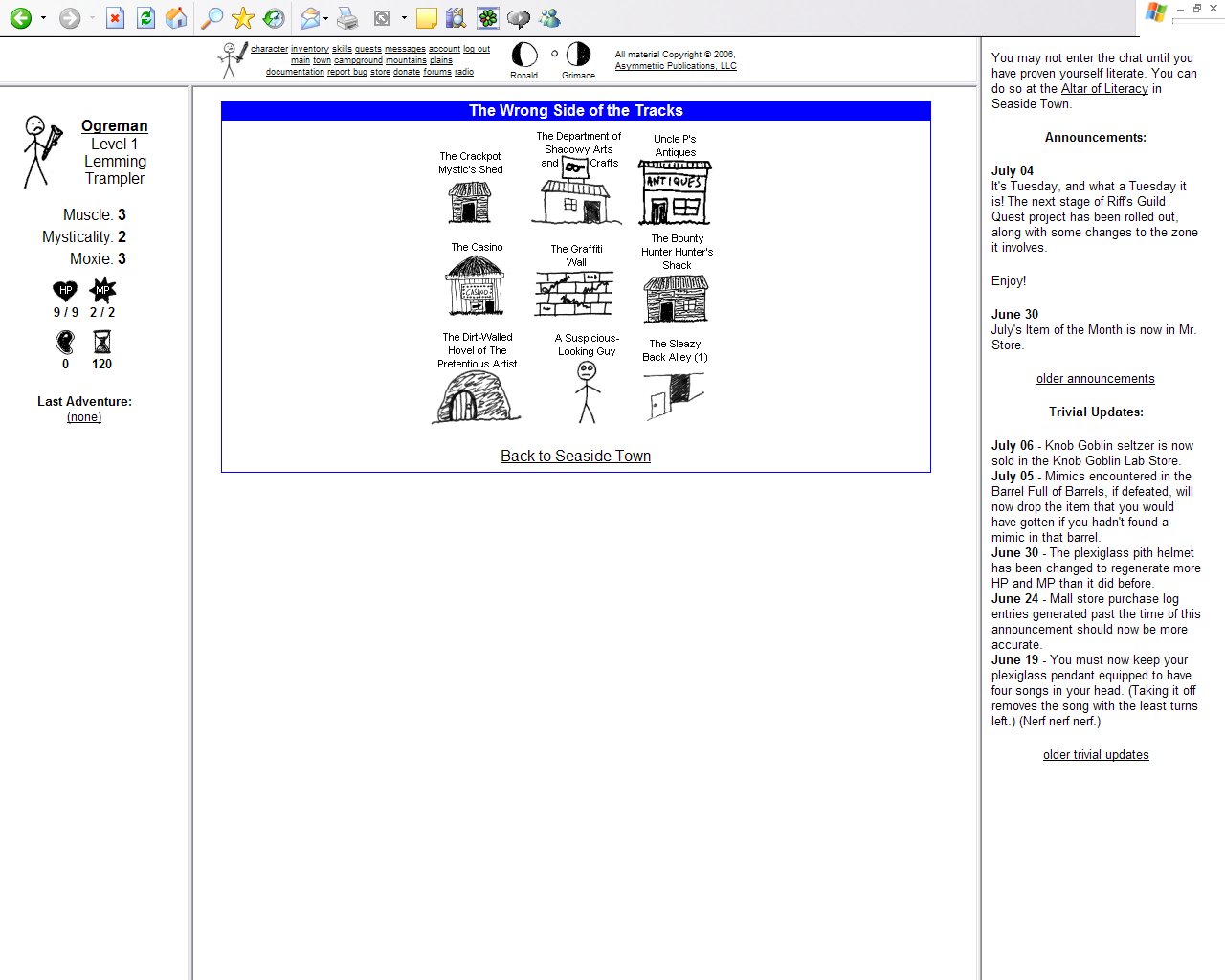 Game Description and Comments
Kingdom of Loathing is a free online RPG loaded with wit and sarcasm instead of amazing graphics (as can be seen by the lack of colorful screenshots this week). In fact, most of the graphics that you see will be of the stick figure variety. This actually adds to the humor of the game. KoL is played directly through your browser, so you can be playing in just seconds after signing up and then logging in.
Before you even create your character you will see plenty of satire because the game's story and character creature feature are on the same page where you sign up at. KoL's storyline pokes fun at generic storylines with such lines as "One fateful Porktober morning, a Sorceress came to the Kingdom. A Naughty Sorceress. A Naughty Sorceress who was clearly up to no good, and even more clearly up to plenty of bad." The satire continues with character creation as normal RPG classes are injected with a heavy dose of humor. For example, a Necromancer is called a Pastamancer and a Warrior is known as a Seal Clubber. Even being able to chat requires you to go to the "Altar of Literacy". Along with Hobo Wars, Kingdom of Loathing is one of the funniest and wackiest free online games that you will ever play.
Features
No download.
Hilarious character choices such as Seal Clubber, Turtle Tamer, Pastamancer, Sauceror, Disco Bandit, and Accordion Thief.
You are given a set number of Adventures each day. Each Adventure lets you do something
Adventures allow you to get loot and increase stats like *Muscle, Moxie, and Mysticality. They are also accompanied with funny text descriptions.
Character stats stay on the left side of the browser.
Easy-to-use maps guide you through the various attractions of the game like Mt. Noob, The Dungeon Full Of Dungeons, The Meatsmith, and The Bugbear Bakery.
Each level gives you a silly title like Puffin Intimidator.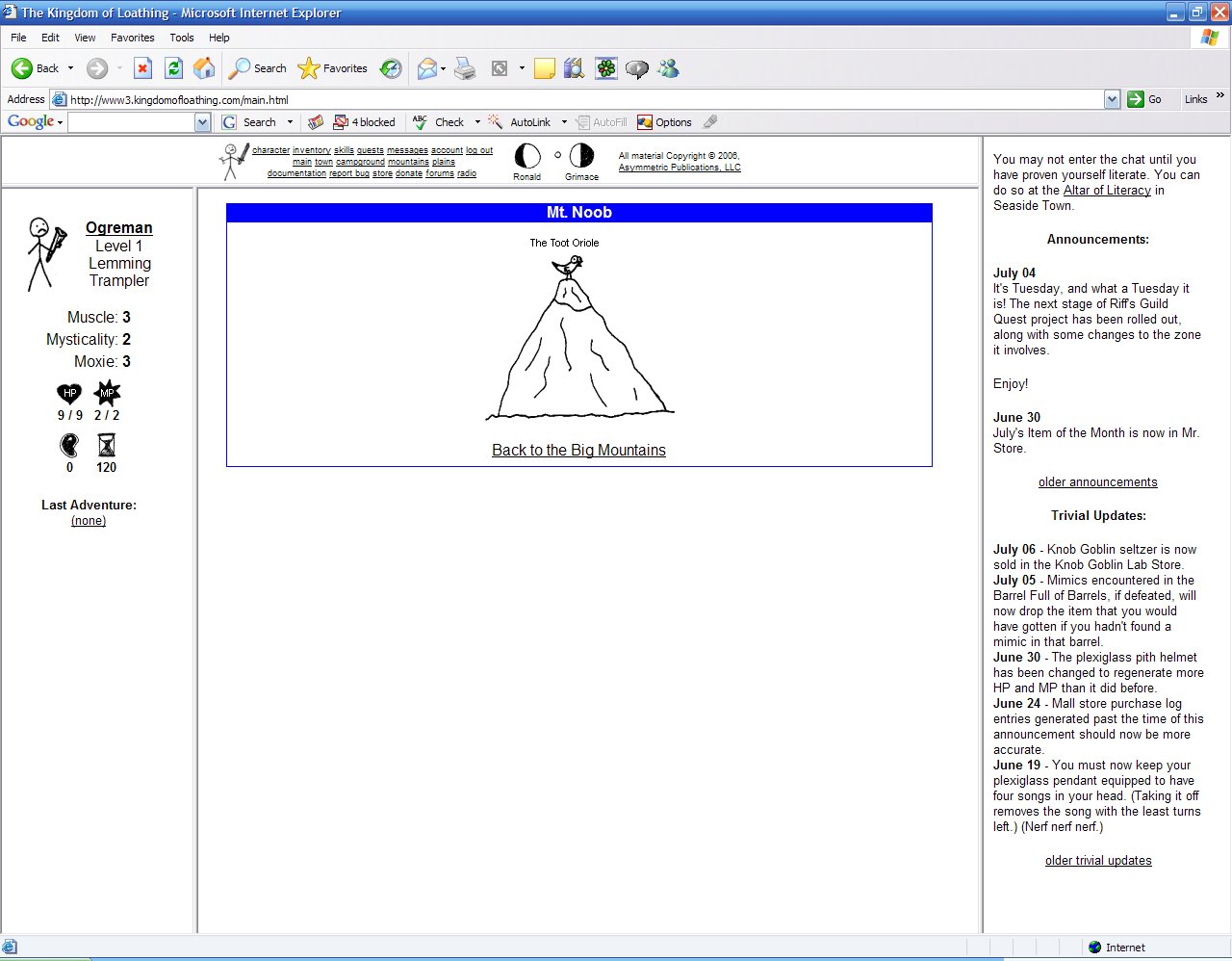 Select User Reviews (Edited for Presentation)
Rating: 10
Author: sony11
Comment: Amazing game that I highly recommend. I've been playing for about 1 and a half years and have no complaints. Plus, new content is being added constantly. There is a lot to explore and the text in battles are hilarious...Especially the Final Ultimate Epic Final Conflict.
Rating: 9
Author: DT
Comment: Completely addictive! Everything is a joke or reference to the past 25 years of gaming culture.
Rating: 8
Author: Mr. Peel
Comment: Perfect example of an original game that does not need good graphics to be very fun.
Pricing Model
Kingdom of Loathing is completely free, but does accept donations.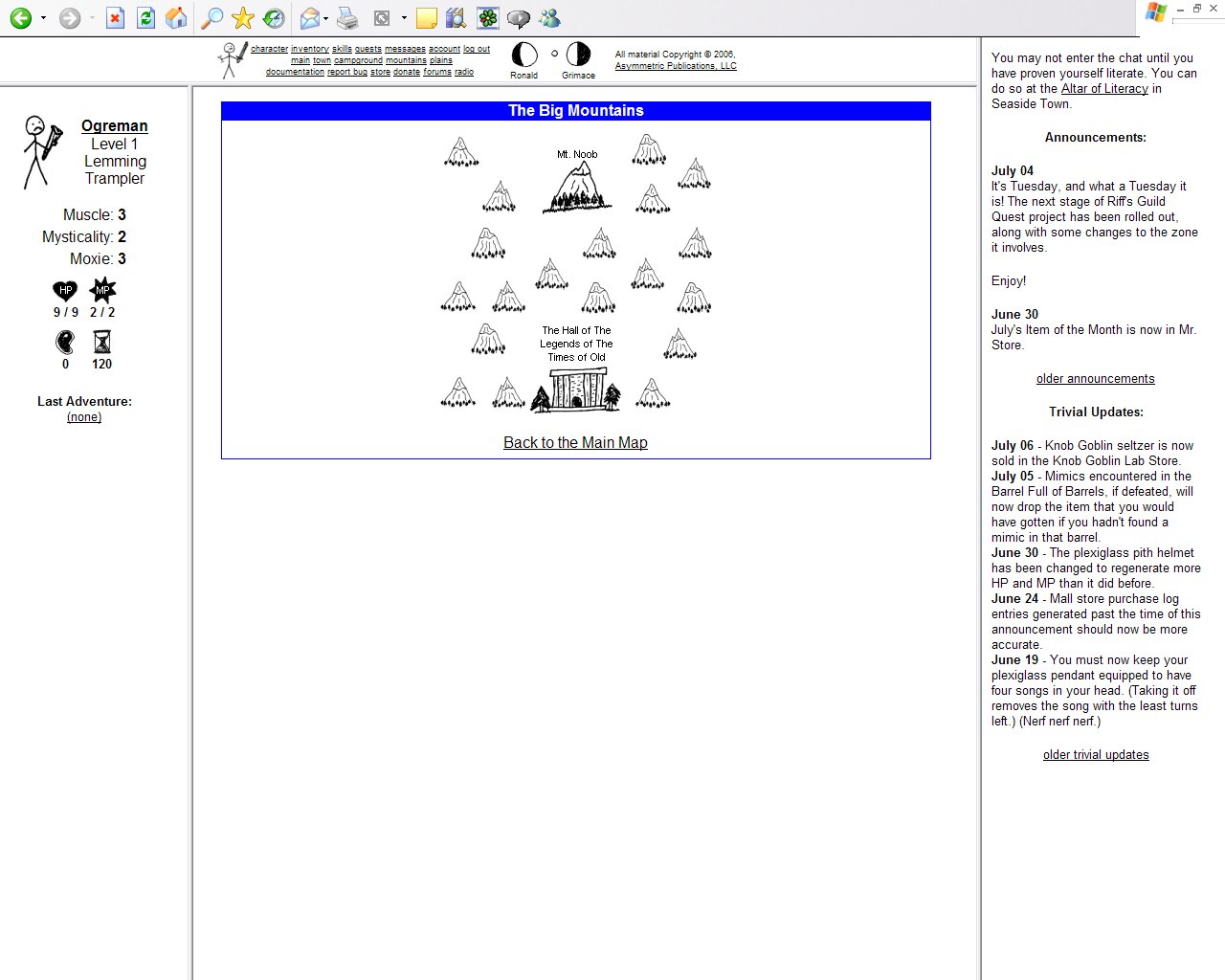 Past Featured Online Games of the Week:
Albatross 18
Innovative game that combines a free MMO with fantasy Golf, Albatross 18.
Lands of Hope
Very deep MUD with thousands of graphics that offers free play up to Level 100.
Dark and Light
MMORPG that boasts over 15,000 square-miles of land in its game world, Dark and Light.
Wheel of Time MUD
Free text-based RPG/MUD based on one of the greatest fantasy novel series ever.
Trash
Online RTS game that supports up to 24 players at once and lets you play the human side of the human-mutant conflict for free.
Blood Clans
Free Online RPG with 3D graphics and a focus on playing in clans.
Navy Field
War strategy MMO with RPG elements that can be played for free until level 30.
Guild Wars Factions
Stand alone campaign with new PvP and guild features that also offers free online play.
Starport: Galactic Empires
Free graphical strategy game where you can either play on a persistent server or try to win a 2 week game period.
Rakion
Free 3D MMO with great graphics that offers plenty of PvP action.
Auto Assault
Action 3D MMORPG where you can blow nearly anything up.
Monster and Me
MMORPG intended primarily for younger audiences that is free to play and focuses on pets.
The Saga of Ryzom
Beautiful 3D MMORPG with an intriguing storyline and considerable character freedom.
GunBound
Innovative shooting game with cartoony graphics that lets you face other players in front of an audience.
Shadowbane
A PvP oriented MMO with both RPG and RTS elements.
Silkroad Online
A 3D MMORPG with both historic and fantasy worlds.
RF Online
A sci-fi MMORPG with anime graphics that focuses on PvP.
Renaissance Kingdoms
Very interactive free online RPG with great political and economic aspects.
Xiah
Free 3D MMORPG with a martial arts theme that gamers may want to avoid for the foreseeable future.
Endless Online
Small fantasy MMORPG that has anime graphics and is free to play.
Little Fighter 2
Arcade-style fighting with very colorful characters that can be played online.
Hobo Wars
Free Online RPG with heaping doses of originality and humor.
Neocron 2
Controversial MMO that offers both FPS and RPG elements.
Anarchy Online
Major sci-fi MMORPG with both a pay-to-play and a free version, Anarchy Online.
Eve Online
Science-fiction MMO that gives you considerable freedom in space, Eve Online.
Supreme Destiny
Free 3D MMORPG with both an English and a Korean version.
Guild Wars
Retail RPG with free online play that won GameOgre.com's Best Gaming Value award for 2005.
Thang Online
Free 3D MMORPG with a huge focus on action and a unique monster system, Thang Online.
ROSE Online
Cartoon-style MMORPG where you can have a major effect on the gaming world.
Conquer Online
A free MMORPG set in an ancient Chinese Kungfu world with nice anime-style graphics.
Rubies of Eventide
A free MMORPG that melds 3D graphics with incredibly deep gameplay.
Ragnarok Online
Popular MMO with cartoon graphics and several innovative features, Ragnarock Online.
Ashen Empires
Medieval Fantasy MMORPG that was once known as Dransik.
Pardus
Free Massive Multiplayer Online Browser Game (MMOBG) where you can trade or pillage in space.
FlyFF: Fly For Fun
Check out a free MMORPG with colorful graphics and solid gameplay where players fly on boards and broomsticks.
Puzzle Pirates
Assume the role of a pirate on the high seas in this puzzling free MMORPG.
Maple Story
Take a look at a MMORPG with cartoon-style graphics that is free to download and play.
GunZ
A game that lets you live out your action movie fantasies online.
BattleMaster
A little-known free Online RPG with strong strategy elements.
Adventure Quest
Take a closer look at one of the more colorful free online RPGs.
Knight Online
Check out one of the best free 3D MMORPGs.
RuneScape
GameOgre.com takes a closer look at one of the more popular Free MMORPGs.