Phoenix Dynasty Online
Game Description and Comments
Phoenix Dynasty Online (PDO) is a free 2.5D MMORPG set in ancient China from the same company as Magic World Online. Although more and more free MMORPGs are being set in ancient China these days, PDO puts a new spin on the setting with its innovative Five Element system. The Five Element system not only affects nearly every aspect of the game from combat to crafting, but it also allows characters with in the same class to be different from each and adds strategy to the game. Each element is stronger against one element and weaker against another. For example, Water is most effective against Fire while it is least effective against Wood. Along with all the quests and PvP wars, this system should help keep players interested in PDO for quite some time.
Key Features
Free to play.
Nice colorful 2.5D graphics.
First expansion recently released.
Four character classes: Paladin, Assassin, Priest, and Wizard.
Thousands of quests.
Magical mounts that have fighting skills and special attributes.
Players can first get a mount at level 5.
Guild wars and state wars.
Five Element system that adds diversity to each class and strategy to the game.
Crafting includes blacksmithing, leatherworking, jewel crafting, and armor crafting.
PvP arenas with rankings.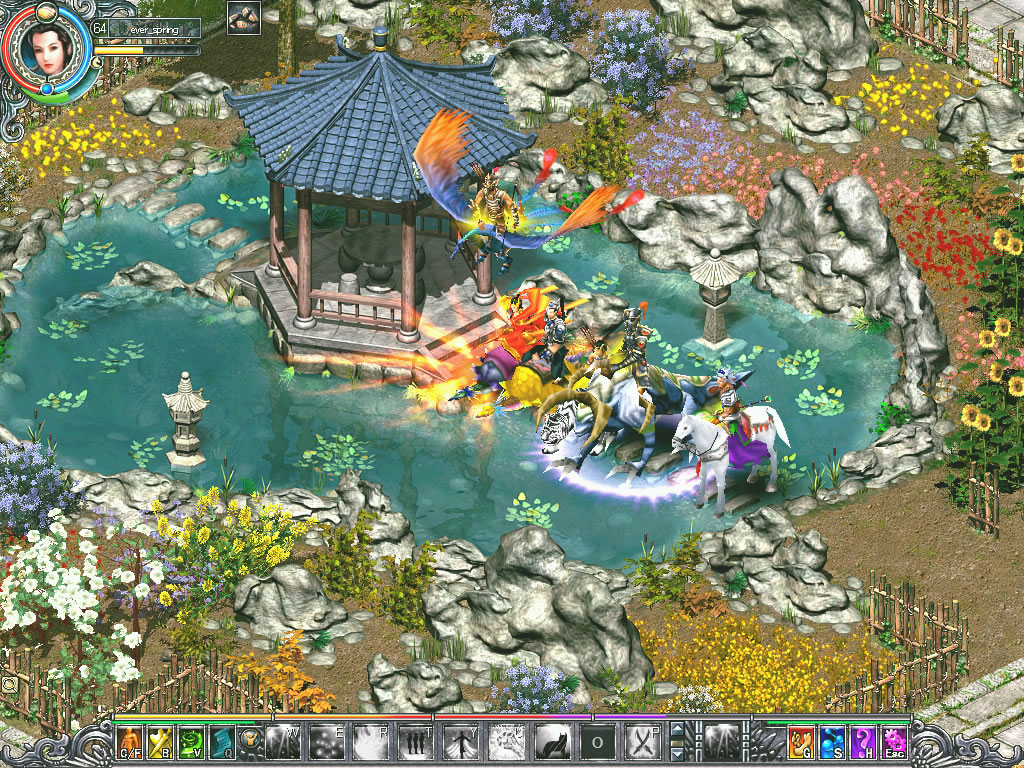 Select Reviews (Edited for Presentation)
Author: Broken
Rating: 7
Comment: If you are familiar to the 2.5D gaming scene, then at first glance PDO looks like it fits the cookie cutter. Delving deeper into the gameplay, however, you soon realize that this is not an ordinary 2.5D "PK everything that moves" style game. The quest system will keep you busy all the way through the 100 levels. There are daily quests that can be done over and over, 1 time quests, and clan quests which can be completed repeatedly to improve your clan.

The skills are numerous and have spectacular graphics. The 5 element system ensures that 2 players of the same class are not necessarily the same. This brings a great amount of diversity that you don't see in most other MMORPG's. Each element for each class has a different skill set. Skills are fixed so you don't have to worry about leveling your skills as well as leveling yourself.

Perhaps the greatest feature of PDO is the impressive clan and state system. As you progress through the game you can claim allegiance to a state. This grants you access to defend your state in State War - a massive PK battle where clans of a state work together to fight other clans. Clans are allied with a state, or for a fee may become allied to no state. Clan war is an impressive battle over several castles that grant your clan numerous benefits. The state/clan system adds an interesting level of complexity to the game, as your interactions with the other states are greatly limited (i.e. you cannot team with anyone who is not in your state).

If PK is your forte, then PDO is the place to be. It features specialized PK arenas (team or free-for-all) complete with rankings. High ranking on the PK boards comes with special titles and rewards.

If you like 2.5D games and are looking for a game that is easy to play, fun, and always keeps you on your toes, come play PDO. You won't be disappointed.
Author: Lonelywolf
Rating: 9
Comment: PDO at first seems like a chore but once you get into it you're creating things like crazy. I found that the quests were a bit boring, but later you get better ones. At first you feel like an errand boy. You're running here and there asking people for things but later you can choose what quests you want to do and venture deeper into the world of PDO acquiring new quests as you go. The skills in this game are unique. Each skill has its own effect and each skill has its own strength and weakness. Elemental skills also give it an "Umph" in the direction of Player Killing. Again, each has its own strength and weakness depending on what element you choose giving the game a sort of uniqueness to other games in that area.

Mounts are also unique in this game giving you a very nice selection depending on your element. From Mystical Birds to prowling Tigers, each player has their own mount which reflects their character. (Mounts are customizable and have different colors.) I have found throughout my gaming time that 2D games attract me the most and give me the most fun. Games with great graphics and complicated gameplay don't appeal to me anymore. Simple games like this grab my attention and keep me involved. With a great community and great support, you cant go wrong with Phoenix Dynasty Online.
Pricing Model
Phoenix Dynasty Online is free-to-play, but does have an item mall.
Past Featured Online Games of the Week:
Ghost Online
Free 2D side-scrolling MMORPG focused on action that will remind players of Maple Story.
Zu Online
Free 3D Kung Fu MMORPG with anime-style graphics and a treasure hunt system.
Red Stone
Free 2D MMORPG with an old-school action RPG look and a transformation system.
Rohan
Free 3D MMORPG where victims of player killers can get their sweet revenge.
Secret of the Solstice
Free anime-style MMORPG where some skills can be acquired via hunting or from trading with other players.
Neo Steam
Free 3D MMORPG with a Steam Punk theme and an interesting transportation system.
Mabinogi
Free fantasy MMORPG based on Celtic mythology that has a plethora of unique features such as an aging system and a weight system where players can become fat by eating too much.
Age of Armor
Robot-themed MMORPG with 3D graphics where the game world can be destroyed via war.
Rumble Fighter
Free online game that is focused on multiplayer fighting.
Glest
Free 3D fantasy RTS with both a single player and multiplayer mode.
Grand Chase
Free side scrolling MMORPG with arcade-style combat and a large PvP focus.
Dream of Mirror
Free 3D MMORPG where players can fly on their weapons and do a wide variety of jobs.
Age of Conan
Mature-themed 3D MMORPG based on a dark fantasy franchise that could innovate the MMO industry.
Shadow of Legend
Free 2D MMORPG that can be played on both PCs and mobile devices.
Moondo
Free online game that combines a colorful online shooter with a multiplayer racing game.
Magic World Online
Free fantasy MMORPG with video chat and an in-game bot that reduces grinding.
Drift City
Free online car RPG/racing game with cartoon-like graphics that is open-ended.
WYD Global
Free 3D action MMORPG that offers a combat controller system and castle sieges.
World of Kung Fu
Free Martial Arts MMORPG where players can create their own Kung Fu schools.
Pirates of the Caribbean Online
Pirate MMORPG based on a very popular movie franchise that can be played for free.
TinyWarz
Free turn-based strategy game that offers a huge number of abilities and vehicles.
Crazy Tao
Free MMORPG with an enemy list and unique pets that can be tempted to the dark side.
Perfect World
Free MMORPG with a huge game world that gives players great customization powers.
MechQuest
Free browser game with a giant robot theme from the makers of Adventure Quest.
Minions of Mirth
Free multiplayer RPG with a single player mode that allows private servers and content from players.
Tremulous
Open source team-based shooter that incorporates RTS elements such as the ability to build structures with various functions.
Cabal Online
Free fantasy MMO that is finally getting a North American version.
Shaiya
Free 3D MMORPG with great graphics that pits good versus evil.
Pirates of the Burning Sea
Major pay-to-play game that could take the pirate MMO to new heights.
Beyond Protocol
MMORTS that brings back the glory days of space strategy games.
Allegiance
Free multiplayer space strategy game that started out as a retail game by Microsoft.
Dofus
Popular French fantasy MMORPG with cartoon graphics that has spawned two spin-off games.
Talisman Online
Free 3D fantasy MMORPG with an auction house and guild wars.
Exteel
Free futuristic MMO shooter by NCSoft where players kill other players inside giant robots.
Second Life
Huge virtual world with a thriving economy and unmatched creativity.
Fiesta
Free 3D anime-style MMORPG with a special type of quest known as a Kingdom Quest.
Turf Battles
Free fantasy MMORPG with easy leveling and various forms of PvP.
Unreal Tournament 3
Major online shooter with a significant single player mode.
Crysis
Genre-busting first person shooter with amazing graphics and smart baddies.
Team Fortress 2
Class-based team shooter with colorful graphics and over-the-top characters.
Tabula Rasa
Long awaited MMORPG that could turn out to be the dominant game in the sci-fi MMO sub-genre.
Hellgate: London
Major action MMORPG/FPS with six distinctive classes and free online play that can be just as addictive as the Diablo series.
Fury
Free MMORPG/MMOFPS that focuses intently on casual players who want to experience PvP combat.
Zero
Free mech/robot themed MMORPG with fast-paced combat and a fun transformation system.
Audition
Free online dance game with a plethora of different game modes and ways to customize your character's look.
Halo 3
Online FPS for the Xbox 360 that blows away the competition on consoles.
Bang! Howdy
Wild West themed tactical online strategy game from the same company as Puzzle Pirates.
2 Moons
Free 3D action MMORPG by Acclaim that is intended for adults.
Horse Isle
Free 2D online game that focuses on training and racing horses instead of combat.
Two Worlds
Multiplayer RPG that can be played on both the PC and Xbox 360 and has a non-linear storyline.
RYL 2: Incomplete Union
3D fantasy MMO sequel with a PvP focus that offers less grinding and better graphics than the original.
Vovins Fall
Free browser-based graphical RPG that can be played on low-end PCs.
Darkwind
Free 3D car combat MMO that blends action with strategy.
Metin 2
Free action MMORPG where players can ride mounts into battles and guilds fight over strongholds.
Tales of Pirates
Free 3D MMORPG with anime-style graphics from the same company as Myth War and Voyage Century.
Dungeon Runners
Action-packed free MMO that is a combination of Diablo and World of Warcraft.
Sword of the New World
Innovative Free MMO where players have their own families and can control up to three characters at once.
Pristontale
Former pay-to play action MMORPG that is now free-to-play and boasts siege PvP warfare.
Kwon Ho
Free online fighting game that combines the intense action of arcade classics like Tekken and Virtua Fighter with a great deal of character customization.
9 Dragons
Free 3D martial arts MMORPG by Acclaim that allows players to live out their Kung Fu fantasies.
Soldier Front
Free online shooter that has 3D graphics and a Team Battle mode with various missions to complete.
OGame
Popular online real-time strategy game that can be played for free.
MixMaster
Free-to-play fantasy MMORPG that boasts a unique pet/ally system.
Voyage Century
Free 3D nautical MMORPG set in the late 17 century with pirates and sea battles galore.
Lineage 2
One of the best pay-to-play MMORPGs for PvP combat with siege warfare.
Scions of Fate
English Version of a free fantasy MMORPG that has been a huge hit in Asia.
Trickster Online
Free cartoon-style MMORPG with a card-based battle system and a unique storyline.
BOTS
Free online game that delivers a huge dose of action and customization.
Lord of the Rings Online
Highly anticipated 3D MMORPG based on one of the top fantasy franchises ever.
Gekkeiju Online
Free online RPG/MUD with 3D graphics and fun features such as player-owned houses and boats and marriages between players.
Boundless Planet
MMORTS with 3D graphics that offers a free trial.
S.T.A.L.K.E.R.
Long awaited first person shooter that boasts RPG elements and online play.
Martial Heroes
Free 3D martial arts MMORPG with an innovative guild system and combo system.
Ferion
Browser-based multiplayer strategy game where you try to build your own planetary empire.
TerraWorld
Online RPG with 2D graphics and an interesting bounty hunting system that is free to play.
Last Chaos
Free MMORPG with amazing 3D graphics and a personal dungeon system for solo players.
Corum
Free 3D MMORPG from the same company as Rappelz and FlyFF that combines instances with PvP.
GoonZu Online
Free MMORPG from Korea where stocks are traded and town officials are elected on each server.
Faldon
Old school multiplayer RPG with 2D graphics and player-owned housing.
Wurm Online
Community-based fantasy MMO with 3D graphics that is made in Java.
Vanguard: Saga of Heroes
Major fantasy MMORPG that tries to offer a much deeper MMO experience than World of Warcraft.
World of Warcraft: Burning Crusade
Highly anticipated expansion pack that makes the world's most popular MMORPG even better.
Pirate King Online
Free MMORPG with cartoon graphics and large scale sea battles.
Graal Online
Former free online game that offers several different versions of the game and player-built worlds.
DragonFable
Animated browser-based RPG based on the Adventure Quest universe.
The Realm Online
One of the very first MMORPGs that is still running.
RAN Online
Free fantasy MMO with 3D graphics and a unique Japanese college theme.
KAL Online
Free 3D MMORPG based on oriental myth where you can transform into an ancient animal.
Neverwinter Nights 2
Online RPG with nearly unlimited replay value due to player-created modules.
Guild Wars Nightfall
Latest high-quality installment of one of the top MMORPGs in the genre.
World War II Online
Leading MMOFPS that drives realism into the World War II theme.
Legend of Ares
Free MMORPG with 3D graphics and a considerable focus on PvP combat.
Rappelz
Free 3D MMORPG from the makers of FlyFF.
Shattered Galaxy
Leading MMORTS where groups and teamwork are essential to victory.
Global MU Online
Hardcore action MMO that is very similar to Diablo and can be played for free up to level 60.
Eudemons Online
Free fantasy MMO with a great pet system that allows players to assemble their own special fighting forces.
Deicide Online
Free 3D MMORPG with a very innovative class system.
Archlord
Fantasy MMORPG where one player can rule over the entire game world.
Hero Online
Free martial arts MMORPG with a fighting system that can capture your imagination.
Ferentus - Canceled
Beautiful fantasy MMO where you can hire NPCs to fight along side you and that is currently in Open Beta.
Titan Quest
Beautiful action RPG that plays similar to Diablo and offers free online play.
Industry Player
Online business simulation game that allows you to match your business wits against thousands of other players.
Space Cowboy Online
Free 3D MMO with both MMORPG and MMOFPS elements that has large scale nation wars and upgradeable space ships.
Furcadia
Free MMOSG or massively multiplayer online social game driven by a wide range of player-created content.
Myth War Online
Free MMORPG with a huge variety of pets, hand-painted graphics, and a very different combat system.
War Rock
Free online tactical shooter with realistic weapons and vehicles.
Tibia
Free MMORPG with a huge player base and multiple player worlds with different playing modes.
Face of Mankind
Innovative MMO where role-playing is key and the players are in control, Face of Mankind.
Dark Ages
Often overlooked pay-to-play MMO that offers a 10 day free trial.
Kingdom of Loathing
Free Online RPG where sarcasm and humor reign supreme.
Albatross 18
Innovative game that combines a free MMO with fantasy Golf.
Lands of Hope
Very deep MUD with thousands of graphics that offers free play up to Level 100.
Dark and Light
MMORPG that boasts over 15,000 square-miles of land in its game world, Dark and Light.
Wheel of Time MUD
Free text-based RPG/MUD based on one of the greatest fantasy novel series ever.
Trash
Online RTS game that supports up to 24 players at once and lets you play the human side of the human-mutant conflict for free.
Blood Clans
Free Online RPG with 3D graphics and a focus on playing in clans.
Navy Field
War strategy MMO with RPG elements that can be played for free until level 30.
Guild Wars Factions
Stand alone campaign with new PvP and guild features that also offers free online play.
Starport: Galactic Empires
Free graphical strategy game where you can either play on a persistent server or try to win a 2 week game period.
Rakion
Free 3D MMO with great graphics that offers plenty of PvP action.
Auto Assault
Action 3D MMORPG where you can blow nearly anything up.
Monster and Me
MMORPG intended primarily for younger audiences that is free to play and focuses on pets.
The Saga of Ryzom
Beautiful 3D MMORPG with an intriguing storyline and considerable character freedom.
GunBound
Innovative shooting game with cartoony graphics that lets you face other players in front of an audience.
Shadowbane
A PvP oriented MMO with both RPG and RTS elements.
Silkroad Online
A 3D MMORPG with both historic and fantasy worlds.
RF Online
A sci-fi MMORPG with anime graphics that focuses on PvP.
Renaissance Kingdoms
Very interactive free online RPG with great political and economic aspects.
Xiah
Free 3D MMORPG with a martial arts theme that gamers may want to avoid for the foreseeable future.
Endless Online
Small fantasy MMORPG that has anime graphics and is free to play.
Little Fighter 2
Arcade-style fighting with very colorful characters that can be played online.
Hobo Wars
Free Online RPG with heaping doses of originality and humor.
Neocron 2
Controversial MMO that offers both FPS and RPG elements.
Anarchy Online
Major sci-fi MMORPG with both a pay-to-play and a free version, Anarchy Online.
Eve Online
Science-fiction MMO that gives you considerable freedom in space, Eve Online.
Supreme Destiny
Free 3D MMORPG with both an English and a Korean version.
Guild Wars
Retail RPG with free online play that won GameOgre.com's Best Gaming Value award for 2005.
Thang Online
Free 3D MMORPG with a huge focus on action and a unique monster system, Thang Online.
ROSE Online
Cartoon-style MMORPG where you can have a major effect on the gaming world.
Conquer Online
A free MMORPG set in an ancient Chinese Kungfu world with nice anime-style graphics.
Rubies of Eventide
A free MMORPG that melds 3D graphics with incredibly deep gameplay.
Ragnarok Online
Popular MMO with cartoon graphics and several innovative features, Ragnarock Online.
Ashen Empires
Medieval Fantasy MMORPG that was once known as Dransik.
Pardus
Free Massive Multiplayer Online Browser Game (MMOBG) where you can trade or pillage in space.
FlyFF: Fly For Fun
Check out a free MMORPG with colorful graphics and solid gameplay where players fly on boards and broomsticks.
Puzzle Pirates
Assume the role of a pirate on the high seas in this puzzling free MMORPG.
Maple Story
Take a look at a MMORPG with cartoon-style graphics that is free to download and play.
GunZ
A game that lets you live out your action movie fantasies online.
BattleMaster
A little-known free Online RPG with strong strategy elements.
Adventure Quest
Take a closer look at one of the more colorful free online RPGs.
Knight Online
Check out one of the best free 3D MMORPGs.
RuneScape
GameOgre.com takes a closer look at one of the more popular Free MMORPGs.